People
Reuters sports editor runs with Olympic torch
Tuesday 17 July 2012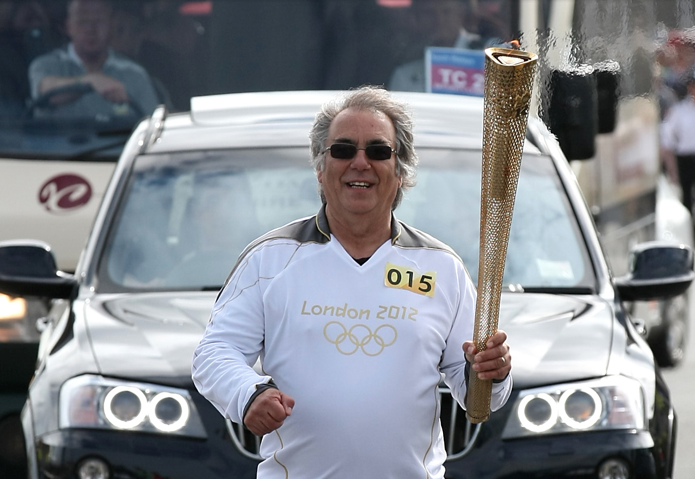 Reuters global sports editor Paul Radford carried the Olympic flame in Guernsey when the 70-day torch relay left the UK mainland for a fleeting visit to the Channel Islands.
Radford, who hails from Guernsey, was watched by family and friends in a crowd of 15,000 who thronged the harbour front and streets of the island's capital St Peter Port on Sunday. He jogged a stretch of around 500 metres along the Castle Pier before handing over to a wheelchair-bound torchbearer.
"It was a fantastic experience," Radford, 65, said afterwards. "I never expected I would ever get the chance to combine two of the great loves of my life - the Olympics and my home island - in this unique way."
Radford was nominated to be a torchbearer by the head of the London Olympics organising committee Sebastian Coe in recognition of his services to the Olympics and to the London Games in particular. Radford has covered every Olympics since the 1984 Winter Games in Sarajevo, a total of 15. He led the Reuters team at the last five and, as editor-in-charge, collected the Reuters News Story of the Year award at a ceremony in New York for the team's coverage of the 2008 Beijing Games. He has served on the International Olympic Committee's Press Commission for 12 years and also serves on London 2012's Media Advisory Group.
Radford organised Reuters' coverage of the London games until his responsibilities were controversially removed by editors in New York a few months before the start of the Games and handed to Asia sports editor Ossian Shine, based in Singapore. Radford remains global sports editor but has been offered no role at the London Games.
Channel Television's torch relay coverage featuring Paul Radford
Thomson Reuters Foundation video of Paul Radford's top 10 tips for reporting the Olympics ■