People
Michael Nelson returns to 85, haunt of ghosts of Reuters past
Saturday 26 November 2011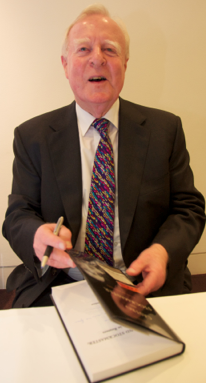 Michael Nelson returned to 85 Fleet Street with more than 80 Reuters people and guests on Friday for the launch of his memoirs in the seventh floor executive offices he occupied for many of his 36 years with the company.
It was an evening of nostalgia at the iconic Portland stone headquarters of Reuters from 1939 until the company sold it and moved to London's Docklands in 2005. Most of 85 is now occupied by a US law firm, Fulbright & Jaworski International.
Stephen Somerville, chairman of The Reuter Society under whose auspices the reception was held, said it was a very special event in a very special place. He called Nelson, former general manager, "the cool voice of authority" and said there could be no more appropriate setting for the launch of his book, Castro and Stockmaster: A Life in Reuters. "This is a place that must be full of the ghosts of Reuters past," he noted.
At a reception on Tuesday at the Foreign Press Association in London, former executive director André Villeneuve described Nelson as a man of vision who went about transforming a whole industry and a venerable company in the process - a company that was desperately trying to find a role that it should play in the post-war world with stretched resources. "He played the key role in transforming Reuters and in creating a veritable seismic shift in the delivery of financial and media information products."
Nelson, who was joined at both events by his family, friends and former colleagues, retired from Reuters on his 60th birthday in 1989, since when he has written four books. Profits from the sale of his autobiography will go to the charity SOS Children, Pakistan in honour of a Karachi taxi driver remembered by Nelson as having saved his life when he was stoned by demonstrators in 1956. Nelson's recollection of the incident is recorded in the book and in the video below.
PHOTO: Corrie Parsonson.
VIDEO ■