People
How Derek Jameson escaped Reuters' anti-communist purge
Saturday 3 December 2011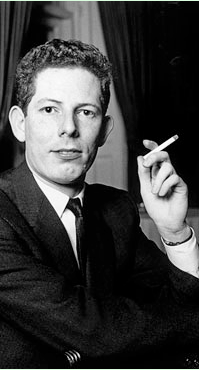 "We had a communist cell at Reuters and I was a kind of co-ordinator," former duty editor and later Fleet Street tabloid newspaper editor Derek Jameson, pictured, recalled on Saturday.
It was the late 1940s and there were about a dozen left-wingers on the editorial floor at Reuters headquarters in Fleet Street, London. Only three or four were Communist Party members, according to The Power of News: The History of Reuters. The rest were fellow travellers.
"At Reuters we had taken a conscious decision that we would not try to doctor the Reuter file. We would stand by their principles of objectivity, fairness, independence and not show any bias at all," Jameson, 82, recalled on BBC radio. "So it was all very fair and balanced and worked very well until one of our sympathisers, a young lady, was editing a keynote speech by President Harry Truman and cut out all his references to Stalin, Russia, Communism, these attacks on her beloved Soviet Union. There was a terrible outcry. One of the clients noticed. She was hauled over the coals, broke down and blew the whistle. She named us. And so a great purge began. Nobody actually got the chop - 'You're fired' - but 'A word in your ear: I'm afraid your career won't go anywhere here, old boy'."
The company's official history records that the main figures in the cell were removed from positions of responsibility, and gradually left Reuters. Several re-appeared working for the Soviet news agency Tass and other Communist news organisations.
"It was a black list, there was no doubt at all," Jameson, told Stewart Purvis, former editor-in-chief and chief executive of Britain's Independent Television News now a journalism professor, in a programme on the history of impartiality in broadcast news.
"I got a tip off that I was about to be purged. I then went into the army, and did my two years' national service. That's how I escaped the purge in Reuters."
When he came out of the army Jameson was assigned to the North American desk "but by then I'd given up Communism. I regarded it as a nonsense, thanks to [Yugoslav leader Josip Broz] Tito."
Former general manager Michael Nelson, in his memoirs published last month, said Reuters had secretly got the security service MI5 to vet job applicants, but eventually stopped it. The company archives contain nothing about MI5 vetting, which Nelson supposed must have been entirely verbal. "We do not know when it started, but it may well have been after the discovery of the communist cell in Reuters in 1950 and the defection that year of John Peet, the West Berlin Reuter correspondent, to East Berlin." A committed Marxist who had joined Reuters in 1945, Peet himself filed the story of his defection saying that he could "no longer serve the Anglo-American warmongers".
From 1952 to 1975 Peet edited the fortnightly Democratic German Report, in which he attacked West German politicians, diplomats, industrialists, lawyers, police officials and generals for their alleged Nazi pasts.
Sandy Gall, another former Reuters correspondent, met him in Berlin in his new role as a spokesman for East Germany. He was "a sad case," he told Purvis.
Peet died of cancer in 1988, aged 72. His memoirs were published the following year under the title The Long Engagement: Memoirs of a Cold War Legend. ■