People
Taras Protsyuk
Born: Ukraine, 16 January 1968
Joined Reuters: 1993
Died: Baghdad, 8 April 2003​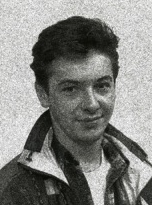 It was a grandstand view of the war. From a corner balcony of the Reuters suite in Baghdad's Palestine Hotel, unofficial headquarters for the foreign news media, cameraman Taras Protsyuk, at 35 a veteran combat journalist, had been filming the advance of American tanks into the Iraqi capital. They were meeting tough resistance in the streets.
The invasion of Iraq launched by the United States and Britain despite much international condemnation had already crushed the regime of Saddam Hussein and was drawing to a close.
On the balcony, Protsyuk, a Ukrainian based in Warsaw, and his British colleague Paul Pasquale were sharing a brief break during a lull in the action. It was shortly before noon. About 1800 metres (2,000 yards) away on the Al-Jumhuriya bridge over the Tigris river, a U.S. Abrams tank swung its gun and fired a single shell at the 17-storey Palestine Hotel. It slammed into the Reuters balcony on the 15th floor.
Protsyuk was fatally wounded. Three other members of Reuters team of 18 in Baghdad were injured: Pasquale, a cameraman and satellite dish coordinator, Gulf bureau chief Samia Nakhoul from Lebanon and Iraqi photographer Faleh Kheiber. On the floor below, Spanish cameraman Jose Couso, of Telecinco, was hit by debris and died in hospital.
The incident caused international outrage. Investigations suggested that the tank commander fired at what he thought was a "spotter" with binoculars directing Iraqi fire against the Americans. U.S. military chiefs certainly knew that the Palestine Hotel was packed with international news teams but the commanders under fire may have been less aware of this. Reuters newsrooms around the world observed a minute's silence in memory of Protsyuk.
From the smile in his eyes, you would never have guessed what tragedies he had seen
Born in the Western Ukraine city of Ivano Frankovsk, son of an oil engineer, Taras Stepanovich Protsyuk studied aeronautics at Leningrad Military Academy hoping to join the Soviet space programme. But the communist Soviet Union collapsed before he could complete his degree, and Protsyuk started freelancing as a cameraman, learning the job as he went along.​
After joining Reuters in 1993 he served as a frontline cameraman, editor and script writer in conflicts in Bosnia, Chechnya, Kosovo and Afghanistan. Friends and colleagues remembered him not as a hardened campaigner but as a kind, gentle and humorous man. "From the smile in his eyes, you would never have guessed what tragedies he had seen," said colleague Irina Narodnitskaya.
Another colleague, Paul Holmes, recalled that during quiet moments in the U.S. invasion of Afghanistan in 2001 Protsyuk would invariably talk not of war but of his wife Lidia and son Denis, who was eight when his father died. ■