People
Harry Burton and Azizullah Haidari
Born: Australia, 23 January 1968
Joined Reuters: January 2001
Died: Afghanistan, 19 November 2001
Born: Afghanistan, 20 August 1968
Joined Reuters: August 1992
Died: Afghanistan, 19 November 2001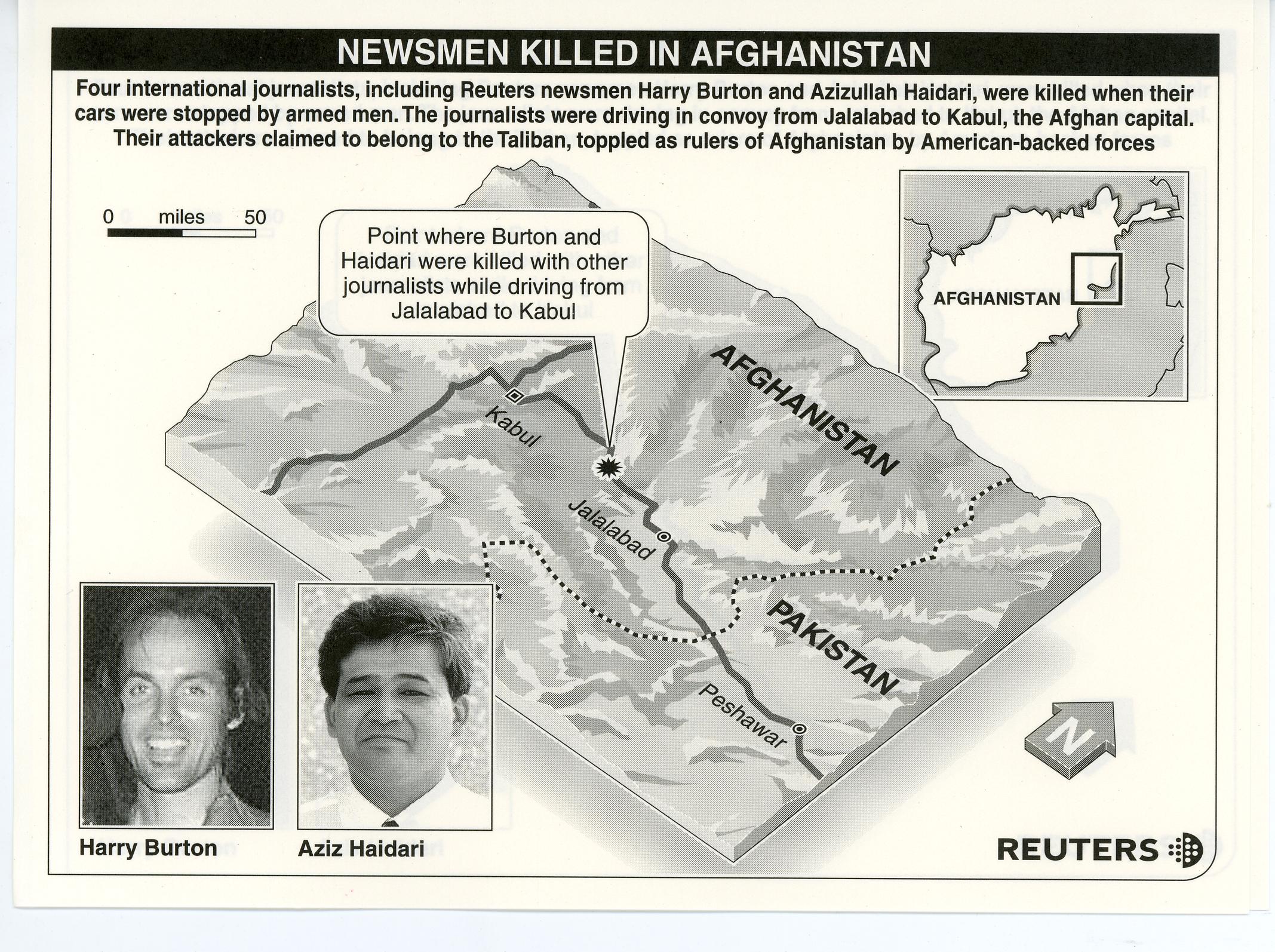 Aziz Haidari and Harry Burton were no strangers to armed conflict and its trail of suffering. In the end, at the same age (33) but from vastly disparate backgrounds, it brought them together for a final assignment in the dusty hills of war-ravaged Afghanistan.
In his short but colourful career as a cameraman and multimedia journalist Burton covered East Timor's bloody struggle to throw off Indonesian rule in 1999. The next year he reported on a coup attempt in Fiji that grabbed world attention.
Haidari had fled Afghanistan along with millions of others when Soviet forces occupied his homeland in the mid-1980s, and for half his life he lived as a refugee in Pakistan. To support his parents, he became first a teacher then a photo-journalist, focusing with compassionate eye on the plight of refugees in the border regions of Afghanistan, especially children.
Burton and Haidari, both warm, easy-going men, were assigned to join Reuters' team covering the "war on terrorism" launched in Afghanistan by President George W. Bush of the United States and allies. America's targets were the country's radical Islamist rulers, the Taliban, and groups from the Al Qaida network led by Saudi-born militant Osama bin Laden which the U.S. held responsible for devastating attacks by hijacked airliners on the twin towers of the World Trade Centre in New York and the Pentagon in Washington on September 11, 2001.
Aziz and Harry died fulfilling Reuters mission to report the news with fairness, accuracy and independence
On Monday 19th November, 2001, the two Reuters men led a straggling media convoy along the winding dusty highway from Jalalabad near the border with Pakistan, to Kabul, the Afghan capital, from where the Taliban had been driven out by pro-American forces. For Haidari, the trip was to have marked his return to the city of his birth for the first time since 1983. About 90 km (50 miles) east of Kabul, armed men waved down the three leading cars of the convoy. The first car sped on but the next two, carrying Burton and Haidari and two other journalists, stopped.
Drivers and translators with the convoy said the bearded gunmen, in long robes and turbans, claimed to be Taliban and ordered the group to follow them into the mountains. The journalists refused. Some reports said they were then stoned and beaten with rifle butts. Fleeing drivers heard bursts of gunfire. The bodies of all four journalists were later found on the road. The two other journalists were Maria Grazia Cutuli, of the Italian newspaper Corriere della Sera, and Julio Fuentes, of the Spanish newspaper El Mundo.
Burton was buried in Hobart, Tasmania, next to his mother. Mourners included his partner Jo Collins, his father, four sisters and three brothers. Haidari, who had married a Pakistani and had two children, was buried in a Muslim ceremony in Islamabad, Pakistan.
Both Burton and Haidari had taken part in hostile environment survival courses. Reuters chief executive Tom Glocer said in a note to staff: "Like Kurt Schork last year and too many other Reuters journalists before, Aziz and Harry died fulfilling Reuters mission to report the news with fairness, accuracy and independence. Too often this requires our colleagues to risk their lives, despite the best precautions that we take as a company." ■