People
Mazen Dana
Born: Palestine, 26 December 1961
Joined Reuters: 1990
Died: Baghdad, 17 August 2003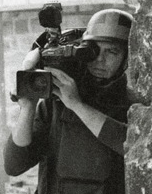 Mazen Dana, a towering, chain-smoking cameraman, won international acclaim - and numerous bullet scars - covering Israel's occupation of his Palestine homeland for more than a dozen years. Then he was assigned to the team reporting on the American-led occupation of Iraq, and became the second Reuters cameraman to be killed by U.S. 'friendly fire'.
On a sunny Sunday afternoon, Dana and Nael al-Shyoukhi, his long-time soundman, close friend and compatriot were filming with permission outside a prison which had been mortar-bombed - probably by forces loyal to Saddam Hussein, whose regime had been crushed by American and British invaders.
As Dana and Shyoukhi were about to leave, a convoy led by an American tank arrived. "Mazen stepped out of the car to film," Shyoukhi said later. "We were noted and seen clearly. A soldier on the tank shot at us. I lay on the ground. I heard Mazen and I saw him scream and touching his chest.
"I cried at the soldier, telling him 'you killed a journalist'. They shouted at me and asked me to step back and I said 'I will step back but please help and stop the bleed.' They tried to help him but Mazen bled heavily. Mazen took a last breath and died before my eyes." He was 41, and left a wife, Suzanne, and four young children.
An American spokesman called it a terrible tragedy, saying the soldier had mistaken Dana's camera for a rocket propelled grenade launcher (RPG). An army investigation found that troops acted within the Rules of Engagement.
Dana's death came four months after his Reuters colleague Taras Protsyuk was killed by an American tank shell fired at the hotel used as a base by international media. Dana was the 18th journalist to die in the Iraq conflict, launched despite international condemnation.
We were noted and seen clearly. A soldier on the tank shot at us
Reuters chief executive Tom Glocer, an American, protested to the U.S. government over the deaths and demanded clear guidelines and greater priority for the protection of journalists. Mistaking a television camera for an RPG from 50 yards (metres) away seemed quite incredible, he said, but young soldiers sometimes acted out of fear.
Some 3,000 mourners joined the funeral procession through Dana's hometown, the West Bank city of Hebron, a flashpoint in the Israeli-Palestinian conflict. He had won heroic status in years covering his people's uprising and been beaten and shot repeatedly - with both real and rubber bullets - by Israeli troops. He was buried in the city's Martyrs' Cemetery.
In 2001 Dana had won an International Press Freedom Award from the U.S. based Committee to Protect Journalists for his work in Hebron. He said then that the journalist's task was to carry the message. "Words and images are a public trust and for this reason I will continue with my work regardless of the hardships and even if it costs me my life." ■