People
Stewart Sale
Born: Luton, England, 28 February 1905
Joined Reuters: October 1942
Died: Scafati near Naples, Italy, 28 September 1943​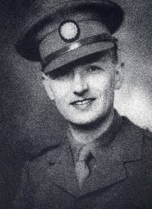 Once a protégé of novelist Edgar Wallace (himself briefly a Reuters correspondent) on the Bucks Mail, Stewart Sale worked for the Press Association and the Daily Telegraph before joining Reuters. He was offered 'admin' posts but said he preferred to stay a reporter. Reporting was what he did best, he said and subscribers agreed: there was wide praise for his war coverage, especially for a dramatic account of a bombing raid on Berlin.
Sale was assigned to cover the British 5th Army in Italy. On 28 September 1943, he and other war correspondents entered the town of Scafati, some 25 kilometres, or 15 miles, south east of Naples, behind the advancing British soldiers. They waited while the infantry cleared backstreets of the town. Then church bells began ringing, and townsfolk began to emerge from shelters and cheer the British troops. Sale interviewed some of them.
"Things looked absolutely safe," reported Frank Gillard, of the BBC. Suddenly, gunfire broke out again. A German half-track with a big gun mounted had returned to do battle. It was early afternoon. Reporters scattered, seeking cover. But for Sale, standing at a street corner with two other correspondents, it was too late. A German shell landed among them and they were killed outright.
there was wide praise for his war coverage, especially for a dramatic account of a bombing raid on Berlin
Sale, along with A.B. Austin, of the Daily Herald, and William J. Munday, of the News Chronicle and the Sydney Morning Herald, were buried at Salerno war cemetery. A memorial service for all three was held in October 1943, at the church of St Dunstan's-in-the-West, Fleet Street, St Bride's, the 'newspapermen's church' next door to Reuters HQ, having been reduced to a roofless wreck by German bombing. ■