People
Namir Noor-Eldeen and Saeed Chmagh
Born: Iraq, 1 September 1984
Joined Reuters: 2003
Died: Baghdad, 12 July 2007
Born: Iraq, 1 January 1967
Joined Reuters: 2003
Died: 12 July 2007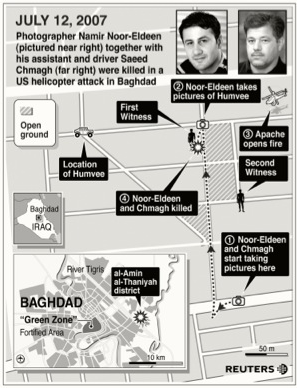 "He lived more in twenty-two years than most people do in a lifetime." So said a colleague of Reuters photographer Namir Noor-Eldeen, who was killed in Baghdad with his assistant and driver Saeed Chmagh in what witnesses said was a U.S. helicopter attack. Their deaths raised to six the number of Reuters newsmen killed in Iraq. The four previous victims - two Iraqis, a Palestinian and a Ukrainian - were killed by American soldiers.
"Namir was an editor's dream ... on top of every story," said Bob Strong, former Chief Photographer in Iraq. "His nose had been broken more than once, he'd been shot in the leg, detained, harassed and threatened, but his quick smile and energy never faded."
Of Chmagh, aged 40, devoted family man, father of four, Strong said: "Saeed was such a gentle man in a chaotic and violent world."
The deaths of the two men brought an outpouring of tributes. "Namir was our favourite little brother with a big heart and a great talent who achieved great things in such a short time," said former Baghdad bureau chief Alastair Macdonald. Steve Crisp, Middle East Pictures Editor, added: "I can still see him walking out of the (Reuters) compound with his cameras slung over his shoulders laughing with Saeed on his way to his last assignment."
That was the morning of Thursday, 12th July 2007, in the fifth year of the U.S. and British led campaign to pacify Iraq and restore democracy after the overthrow and execution of the dictator Saddam Hussein. Noor-Eldeen and Chmagh drove to the al-Amin al-Thaniyah area of eastern Baghdad to check on reports of a dawn air strike on a building by the American military.​
Namir was an editor's dream…on top of every story
There had been reports of clashes between U.S. forces and insurgents in the general vicinity but there was no fighting on the streets in which Noor-Eldeen and Chmagh were moving about.
There were other people in the street, including a number of men. It is believed that two or three of these men may have been carrying weapons, although it was clear from witness statements that they were not firing them nor were they held in a firing-ready position.
The men congregated on a corner and Chmagh and Noor-Eldeen chatted with them for a few moments. Noor-Eldeen looked around a corner to take a photograph from a distance of a U.S. Humvee vehicle several blocks away.
The Apache helicopter then opened fire, killing both Reuters men and nine others.
Reuters said the evidence "raises real questions about whether there was fighting at the time the two men were killed," and asked the U.S. military for a full and objective investigation. ■