People
Waleed Khaled
Born: Baghdad, 20 April 1972
Joined Reuters: August 2003
Died: Baghdad, 28 August 2005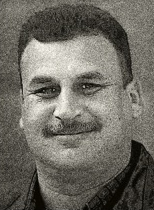 Waleed Khaled was the fourth Reuters journalist to die in Iraq and, like at least two of the others and probably all three, was killed by American soldiers. Reuters raised its protest to a new level, commissioning an independent investigation which concluded that the soldiers breached their rules of engagement and acted unlawfully.
At the time of the U.S. and British invasion to topple Saddam Hussein in 2003, Khaled was a major in the Iraqi army but he took little part in the conflict. The eldest son of a large Baghdad family, he had trained as a military engineer. Money was short in sanctions-hit Iraq and Khaled worked in the motor trade in his spare time. When the U.S. occupation authority disbanded the Iraqi army, Khaled joined Reuters as a driver. Soon he was also working as a sound engineer.
A big, jovial man, Khaled's military instincts and air of authority made him a natural leader for field crews working in increasingly dangerous conditions as sectarian strife pushed the country to the brink of civil war.
On Sunday, 28 August 2005, Khaled, 33, and Iraqi cameraman Haider Kadhem, 24, tipped off by a police source, sped to the scene of an insurgent ambush on Iraqi police in the Hay al-Adil district of western Baghdad. Their white saloon car was unmarked but Khaled, at the wheel, wore U.S. military and Reuters press badges on his chest.
When they reached the scene Khaled told Kadhem to get down into the well of the car, and started reversing at speed as gunfire broke out. His action may have saved Kadhem's life - he was slightly wounded by flying glass and metal fragments - but Khaled was hit in the face and chest by several bullets and died instantly. Two bullet holes were found in one of his press passes.
A big, jovial man, Khaled's military instincts and air of authority made him a natural leader for field crews working in increasingly dangerous conditions
A quick investigation by an officer from the same U.S. army brigade to which the soldiers belonged said its men had feared an imminent suicide bomb attack and had taken "appropriate measures". The Reuters car had approached at high speed, with "individuals hanging outside with what looked to be a weapon" - presumably Kadhem's small video camera - and had then reversed. "Our soldiers on the scene, using established rules of engagement and all the training received, decided that it was appropriate to engage that particular car," a spokesman said.
Reuters rejected any suggestion that the killing of Khaled was justified and commissioned a thorough, independent investigation by a leading risk management group. Its report six months later found that the Americans' use of force was neither proportionate nor justified. "We conclude … that no hostile act took place and no act could have been legitimately mistaken as indicating hostile intent," the report said. "The engagement was therefore in breach of U.S. Rules of Engagement and, in our opinion, on the current evidence, was prima facie unlawful."
Reuters sent the report to the U.S. Defence Department and demanded that the military order its own full, independent and objective inquiry. The killing of Khaled was condemned by the Director-General of UNESCO and by journalists' groups such as the Committee to Protect Journalists and Reporters Sans Frontieres.
Khaled left a wife, Randa, and four-year-old daughter, Heba. Nine weeks after his death, Randa gave birth to a son and named him Khaled Waleed in his father's memory. ■