People
Hiroyuki Muramoto
Born: Tokyo, 28 June 1966
Joined Reuters: 1 May 1995
Died: Bangkok, 10 April 2010​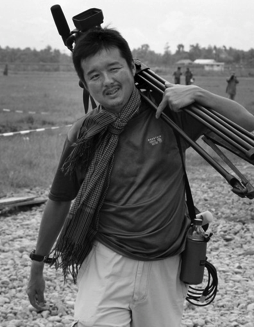 An eye-witness to the last moments of Hiro Muramoto's life saw him standing his ground amid the chaos and gunfire, steadily filming security troops as they moved to quell a mass protest that had suddenly turned violent.
It was a balmy Saturday evening in Bangkok. Muramoto, 43, had flown in two days earlier from Tokyo to reinforce coverage of anti-government demonstrations by red-shirted protestors which had dragged on for weeks, relatively peacefully. Now, finally the stand-off had ended and bullets were flying.
In the thick of the action near Phan Fah bridge in Bangkok's old quarter, Muramoto was shot through the chest. He was one of 18 people who died that day, including four soldiers. Hundreds were wounded.
"Hiro was not the gung-ho war correspondent of the movies," a colleague wrote. "He was a careful, loving, married Dad of two, a gentle mentor for young colleagues and an expert story-teller."
Hiroyuki Muramoto began his career as an intern with NBC while still attending Temple University's Japan campus, from which he graduated in 1988. Four years later he was working freelance for Reuters Television, joining the full-time staff in 1995.
He covered the aftermath of the Indian Ocean tsunami disaster in 2004 and Philippines army operations against insurgents on Jolo island, as well as big financial stories. His news instincts shone through on a rare reporting visit to North Korea, when he eluded government "minders" to film evidence of hardship and poverty behind the gleaming official facade.
Hiro was a perfectionist, he always stuck around for a better angle, better lighting or a better moment
His personality endeared him to all. "Remembering Hiro's gentle smile" was the headline of a tribute compiled the day after Muramoto's death. When occasionally bureau tensions ran high and sharp words were said, Muramoto would calm things down. Said one reporter: "He told us to forgive, that no-one means harm, that everyone's doing their best to cover the news."
Off duty, Muramoto loved to spend time with his wife Emiko and their two young daughters. He joined charity walks in the foothills of Mount Fuji, raising money for impoverished people in Africa.
Some of the last footage he shot, in the camera returned to Reuters by the Bangkok protestors, captures the lethal escalation of violence. Explosions are heard, and continuous gunfire. Bodies lie on the ground. Muramoto's camera focuses on a trail of blood. Another cameraman runs frantically into him. Soldiers with riot shields jostle him. Muramoto, walking slowly backwards, keeps filming.
"Hiro was a perfectionist, he always stuck around for a better angle, better lighting or a better moment," recalled Reuters Television Senior Producer Olivier Fabre, who worked with him for 14 years. "His professionalism may have been his undoing - as seen when he stood around on the streets of Bangkok filming while chaos broke out around him ... I would not be surprised if all he was thinking of was whether he had bagged a good enough shot.
"He was gentle and kind to others but always hard on himself." ■