People
Sabah al-Bazee
Born: Samarra, Iraq, 22 March 1981
Joined Reuters as freelance: 2004
Died: Tikrit, Iraq 29 March 2011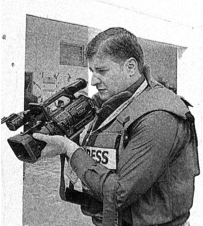 Sabah al-Bazee had gone with local police to cover an arms cache find when insurgents in security force uniforms stormed a nearby provincial government building with suicide bombs, grenades and automatic gunfire. He arrived as battle raged, but was cut down by shrapnel from an explosion as the real security forces tried to retake the building.
Bazee, one of Reuters brightest and most energetic freelancers, had just turned 30.
He was among more than 50 people killed in the midday attack on March 29, 2011, in Tikrit, hometown of former dictator Saddam Hussein, who was tried and executed in 2006. During several hours of fighting, the attackers took hostages and executed them. The al Qaida-Iraq group said it carried out the attack, one of the worst since US forces who had toppled Saddam handed security back to Iraqi forces in August 2010. Another Iraqi journalist, Muammar Khadir Abdelwahad, 39, also died. About 100 people were wounded.
Bazee was a text reporter, photographer and video cameraman who constantly sought to improve his skills.
Looking back over his work, correspondent Peter Graff said: "The images compiled over eight years of carnage by a single journalist like Sabah al-Bazee still have the power to freeze your blood." They included the bombing of the ancient Askari shrine in Samarra in 2006 which helped propel Iraq into sectarian civil war between Sunni and Shi'ite Muslims.
His work rate could exhaust colleagues, and yet Sabah never seemed to stop smiling
Bazee had what one colleague called "almost childlike" enthusiasm, allied with boundless energy. "He was constantly asking our reporters, photographers and cameramen for tips as to how to hone his skills."
He had seven brothers and a sister. One brother was killed by insurgents in 2006 because he had joined the police. Sabah Bazee, who also worked for CNN, Al-Arabiya and other international and local media, was among almost 150 journalists killed in Iraq since 1992.
Former Baghdad bureau chief Alastair Macdonald said: "Sabah had an energy and courage that meant he thought nothing of driving the 100 dangerous miles between Tikrit and Baghdad at any hour to deliver video and pictures ... His work rate could exhaust colleagues, and yet Sabah never seemed to stop smiling."
On one especially glum New Year's Eve when Iraq seemed to be descending ever deeper into bloody chaos and the bureau felt under siege, Bazee turned up at Reuters Baghdad. "We asked him what brought him down to the city on a frightening night like this," Macdonald recalled.
"'Happy New Year,' he laughed, offering presents all round. "Life to Sabah seemed somehow joyful." ■