News
Reuters launches Harry Evans global journalism initiative
Wednesday 8 December 2021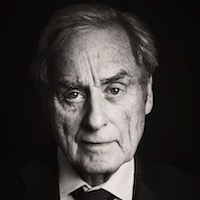 Reuters has launched of a global initiative to nurture a new generation of investigative journalists in memory of its late editor-at-large Sir Harry Evans (photo).
The Sir Harry Evans Memorial Fund, launched in partnership with his university, Durham, will create two complementary programmes - a fellowship in investigative journalism and an annual forum.
The annual fellowship will offer a high-calibre candidate the opportunity to undertake a piece of investigative reporting from the Reuters newsroom, mentored by top Reuters editors and supported by academic links at Durham.
Evans died in 2020 aged 92.
David Thomson, chairman of Thomson Reuters, said: "Harry cast an immense shadow and his spirit hovers today, stronger than ever. Talent drew alongside and thrived under his leadership; alchemy simply unfurled.
"Harry's boundless curiosity, dogged determination and unwavering courage made one feel deeply human and proud.
"Our family and everyone involved with this initiative believes it will attract and inspire individuals who truly believe in the future of journalism.
"Harry could never have wished for a finer narrative."
Alessandra Galloni, Reuters editor-in-chief, said: "Sir Harry Evans was a giant of journalism and an inspiration to those who worked with him.
"We hope that, through this initiative, Reuters can help support a diverse new generation of investigative journalists and newsroom leaders.
"We are delighted to be working in partnership with Durham University to champion independent journalism, nurture emerging talent and celebrate Sir Harry's remarkable legacy."
The fellow will be appointed annually, following a competitive award process, and the first one will join Reuters in 2022.
The fund will also enable the creation of an annual Forum for leading figures across media broadcasting and investigative journalism at Durham Castle, home to University College, Sir Harry's college at Durham.
Durham University has already received over $5 million in pledges to support the establishment of the fund, including a $2 million donation from Thomson Reuters.
For more information on the Sir Harry Evans Memorial Fund visit durham.ac.uk/sir-harry-evans-memorial-fund ■