News
Obituary: William Ogston
Wednesday 12 May 2021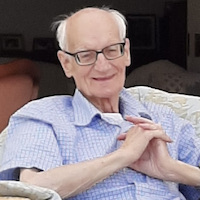 William (Bill) Ogston (photo), for many years Reuters group pensions manager, died on 16 April age 87.
It was at Dulwich College where he won a scholarship that he developed his aptitude for mathematics, later leading to a career in the actuarial field, Peter Fanning writes.
Bill completed his actuarial exams and became a Fellow of the Institute of Actuaries. Working for a firm of consulting actuaries, he had responsibility for providing actuarial advice on pension arrangements to a number of clients. One of them was Reuters and in 1981 he was invited by Nigel Judah, the then finance director, to take up the position of group pensions manager.
In this role Bill was responsible for the oversight of Reuters pension plans worldwide and additionally the management and administration of the UK plans. There were more than 50 plans worldwide, some small, others more substantial.
Reuters Pension Fund, the main UK pension plan, was unique in a number of ways. It was one of the earliest plans established in the UK, having been set up by Trust Deed dated 13 December 1893, and because Reuters, in the early days, operated on a Reuters Limited branch structure was able to include overseas branch employees in the UK plan. Although this is no longer the case there are still pensions being paid today in US dollars, Japanese yen, Sri Lankan rupees and other currencies that reflect this history. The Fund today has assets exceeding £2.5 billion.
He always enjoyed participating in sports, and represented his school at rugby. He played lawn tennis for most of his life until, to his dismay, the grass courts at his local tennis club were replaced with hard courts "taking away the finesse of the game" and being less kind to ageing joints. Wimbledon Tennis fortnight was always a firm fixture in his diary each year. He was a lifelong supporter of Charlton Athletic Football Club.
Bill retired in 1995, returning briefly as an RPF trustee. He leaves a wife, Jean, son Graeme, daughter Lindsay and four grandchildren. ■