News
Reuters former Fleet Street neighbours face wrecking ball
Saturday 15 May 2021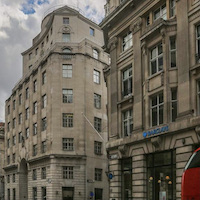 Part of Fleet Street near Reuters former London headquarters is to be demolished to make space for a justice quarter.
Demolition of a block next to the Portland Stone building at 85, opened in 1939, will see the end of a neo-baroque bank, the Chronicle newspaper building, a Victorian pub and a restored Georgian mansion at No. 1 Salisbury Square.
The City of London wants to build three large blocks - one of them 10 storeys high - for a police headquarters, 18 courtrooms, legal offices and a block of holding and police cells. The Fleet Street frontage will be a continuous windowless wall and a busy street of variegated shops and other uses will become a fortified bunker, said former newspaper editor Simon Jenkins.
"This is not civilised modern planning. It is the worst sort of 1970s brutalism," he wrote in Apollo, an international art magazine.
"The buildings along Fleet Street form an integral link, in the nearest London has to a processional way, between the Cities of London and Westminster." Jenkins said the City of London's decision to demolish the buildings was a "brazen defiance of conservation law".
He said courts and prisons are inappropriate for a busy commercial street. "The City of London seems to feel that posh City fraudsters should not be made to travel south to scruffy Southwark to have their cases tried. In truth the reason for this extraordinary proposal is that a tiny, archaic local council feels insulted that its judicial activities are not exercised on its home turf." ■
SOURCE

Apollo