News
WFH extended to next July at Thomson Reuters
Saturday 31 October 2020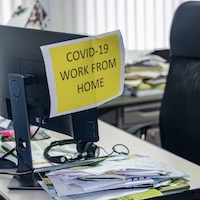 Thomson Reuters has extended its voluntary work from home scheme to July 2021 and said most staff will work part of the week in the office and part at home.
It acknowledged that the emotional toll of working in entirely new ways during the pandemic has been significant and said the way of working and life in general have changed and will continue to change due to the impact of COVID-19.
"To support your wellbeing and to offer as much certainty as possible, we have extended the voluntary work from home period to July 2021," chief people officer Mary Alice Vuicic told staff.
"For those who would like to continue to work in the office or return to an office environment soon, we are working on gradually and safely reopening our offices, informed by local safety guidelines. We truly appreciate all of our essential employees who have been working regularly in the office through much of this pandemic."
Many had asked how they would work in the future. Thomson Reuters was a leader in providing flexibility long before the pandemic, Vuicic said. "We intend to continue to lead with expanded tools, training and coaching to support greater flexibility and seamless work - whether from your home or the office. That balance will be our new normal.
"We aim to offer as much flexibility as possible to support your work style, while balancing business needs, fostering your career development and maintaining a strong and unique culture."
For most employees, this will mean a portion of the work week will be in the office and a portion of the work week will be remote (i.e., from home).
"We have made this decision because we value both the flexibility of remote working, and the power of in-person collaboration and connection in the office. There is no one-size-fits-all solution for flexibility, given the variety of roles, work requirements and business needs in our organization. But we believe employees can and will successfully blend working in office and remotely. All arrangements must, of course, be agreed with managers and suit the needs of the team." ■
SOURCE

Reuters