News
Thomson Reuters mulls sale of stake in Reuters HQ
Tuesday 6 October 2020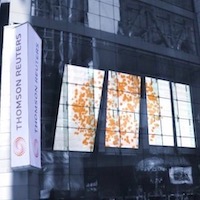 Thomson Reuters is considering selling its 50 per cent stake in the New York skyscraper that serves as Reuters News headquarters, Bloomberg reported.
It said the company has tapped an adviser to solicit potential interest in the 32-storey Thomson Reuters Building at 3 Times Square on 7th Avenue between 42nd Street and 43rd Street.
No final decisions have been made and the company could retain the property, which opened in 2001 and includes outdoor billboard space for rent.
"We regularly engage with advisers to ensure that our real estate footprint best supports our workforce and their ability to serve our customers," Thomson Reuters spokesman David Girardin said. ■