News
Iran postpones Nazanin's trial at last minute
Sunday 13 September 2020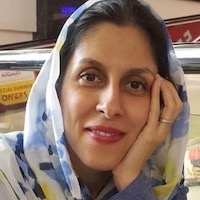 A new trial of Nazanin Zaghari-Ratcliffe (photo), the Thomson Reuters Foundation staffer detained in Iran for the past four years, has been postponed at the last minute.
Her husband Richard Ratcliffe confirmed the news, which came as a surprise to both his wife and her London-based family.
He said: "For Nazanin, the uncertainty is deeply traumatic, as we await the next move. This remains a game of cat and mouse between governments, with us living life as a piece of bait."
Zaghari-Ratcliffe is staying with her parents in Tehran and is wearing an ankle tag that requires her to remain within 300 metres of the residence. She was released on furlough in March because to the COVID-19 pandemic.
On Sunday she contacted the prosecutor's office and her lawyer after the official car due to take her to court did not arrive. She was subsequently told by her lawyer the case would not be going ahead on Sunday. Her family said it had no reason to believe this was anything but a postponement.
Zaghari-Ratcliffe, a Foundation project manager, is facing a second round of charges in a Tehran revolutionary court that could lead to her being imprisoned for up to a further 10 years. Her lawyer has been given less than a week to prepare her defence.
Her six-year-old daughter is living in London with her father.
Zaghari-Ratcliffe was due to complete her five-year prison sentence next spring and the family had always feared the Iranian regime would bring new charges. ■
SOURCE