News
Obituary: Michael Black
Monday 25 February 2019
One hundred and twenty-five years after Paul Julius Reuter set up his office in London, a stone bust of him was unveiled close to where he founded his news agency.
Commissioned by Reuters to mark the anniversary, it was set in the heart of the City - in the pedestrian precinct between Royal Exchange Buildings where in 1851 he rented two rooms and the Royal Exchange itself. He chose that location because it was close to the main telegraph offices in the financial district, an important consideration for the global news organisation he would build.
It was unveiled on 13 October 1976 by Edmund de Rothschild, president of NM Rothschild and Sons and great-grandson of Reuter's first customer, Baron Lionel de Rothschild.
The sculptor Michael Black, who died at home in Oxford at the age of 90 on 14 February, borrowed a marble bust made in 1878 to help him model the Baron. That bust was sculpted soon after the founder had retired, aged 61, as managing director of Reuter's Telegram Company to Nice, where he was to die at his Villa Reuter home in 1899.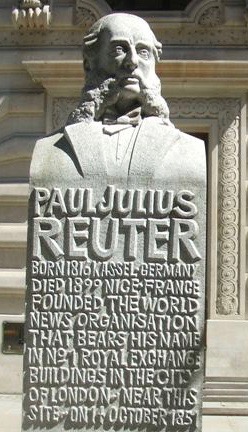 Black later recalled that "the sideburns were tricky" - a reference to the Baron's luxuriant mutton chop whiskers that were a 19th century fashion for men of substance.
After Black returned it, Reuters stored the marble bust out of sight until 1993 when it was discovered in a large, dusty, wooden crate by John Entwisle, company records manager, whilst searching for documents in the garage where Reuters fleet of cars was based.
It had previously adorned Reuters London offices, including at one time the entrance hall of its global headquarters, 85 Fleet Street.
The marble bust was also used for bronze copies which were a feature in some of Reuters larger offices.
Libby Purves, writing in The Times, remembered visiting Black in Oxford where he was known for having carved the heads of Roman emperors round the Sheldonian Theatre. She found him "a powerful figure whitened with stone-dust, seemed almost as majestic and timeless to us as his creations. He dispensed homebrewed beer and yarns about the city whose stones he loved and tended…
"He demonstrated the tough physicality of turning vision into reality. In our time of increasingly conceptual artworks, made in secondary workshops on the say-so of a highly rewarded inventor, too many disregard the ancient craft skills. I watched his perfectionism, the maker's urge to force form and line to mean something beyond the visible, and the impetus that could never stop creating, whether in tiny quirks or great enterprises, yet needed commissions to live.
"The City of London has his bust of Paul Julius, Baron von Reuter, of the news agency ('the sideburns were tricky' mused Michael)…
"He lived as few - even artists - do now: insouciant of fame, fashion or the favour of gallerists. With energy drawn from woods and quarries and history he wrestled beauty from hard surfaces. Our bland cautious times could not degrade him. Such men are long remembered."
PHOTOS: Michael Black (R) with some of the heads he sculpted including that of Paul Julius Reuter (L). The finished bust outside Royal Exchange Buildings in the City of London. ■