News
RIP Reuters Ltd. Hail Refinitiv Ltd
Monday 25 February 2019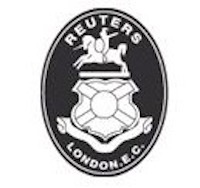 Reuters Limited, forged a century ago amid global war and corporate turmoil, is being terminated.
The name will changed to Refinitiv Limited at the end of this month, in line with a general policy and branding process across the new privately-held company as a whole to align itself behind the new brand.
Refinitiv is the new identity of the financial and risk division created out of the terminals and data business acquired when the Thomson organisation of Canada took over Reuters in 2008. Private equity investors bought a 55 per cent controlling interest in October 2018.
Refinitiv emphasises only the legal name of the company is being changed; it is not part of any wider underlying business or structural change. The employer covenant which supports Reuters Pension Fund, founded in 1893, and the later Reuters Supplementary Pension Scheme in the name of Reuters Limited, renegotiated last year, will remain the same but under the new name.
There is no proposal from the company to change the names of those two Reuters legacy pension schemes. The Thomson Reuters Retirement Plan (TRRP), main retirement vehicle covering the large majority of active employees in the UK, including new joiners, has been changed to Refinitiv Retirement Plan (RRP), however.
Reuters Limited dates from the years of the First World War. In 1915 Roderick Jones, who had run Reuters business and news reporting operations in South Africa, sailed for London to press his case to take charge after the founder's son and successor Herbert de Reuter shot himself three days after the sudden death of his wife.
Thus ended the Reuter family's direct connection with the company. Jones said he sought "to prevent the control of the company from passing into undesirable hands".
Reuter's Telegram Company founded in February 1865 by Paul Julius Reuter, later Baron de Reuter, ceased to exist in December 1916. Its 1,200 shareholders had been bought out for £550,000 loaned by a Scottish bank and in its place, Reuters Limited was incorporated as a private company with Jones at its head.
Reuters influence was pervasive. German newspaper Vossische Zeitung proclaimed in 1917: "Reuter rules the market…" and "London makes foreign opinion, not Berlin. We Germans have remained, despite all our exertions as regards impressing foreign opinion, the same bunglers we always were… Where concise and journalistically apposite attacks or rebuttals are required, we give long and profound leading articles… an interesting Reuter report of fifty lines is always preferred to a long-winded leading article."
The following year, as hostilities neared their end with the Armistice, the Berliner Tageblatt proclaimed "mightier and more dangerous than fleet or army is Reuter".
Reuters Limited became a subsidiary of Reuters Holdings PLC in June 1984 when the company floated on the London Stock Exchange and NASDAQ in New York. Reuters PLC was taken over by Thomson Corporation to form Thomson Reuters in April 2008.
Reuters remains the name of the news agency which continues in the sole ownership of Thomson Reuters. ■