News
Obituary: John Hopper
Tuesday 13 November 2018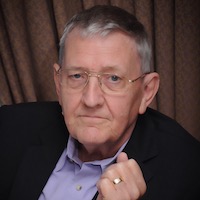 John Hopper (photo), who died from cancer in London on 9 November aged 84, began a 40-year career with Reuters as a telegraphist in the days before video-editing and computers.
Telegraphists were staff who typed edited news copy for transmission to subscribers and "Hoppy", as he became known, was one of the best, often saving sub-editors who missed a typo in the rush to get stories out.
When he joined the agency in 1956 Reuters had around 400 staff in London, he recalled as he approached retirement 22 years ago, and only one property, its headquarters at 85 Fleet Street.
"My first job was on the fourth floor, the General News or World Desk area. It was very noisy - no PCs, just typewriters and teleprinters and telex machines, clacking away 24 hours a day," he said.
As video editing technology replaced the need for telegraphists, Hopper became communications supervisor, then UK sales executive, sales manager East Mediterranean based in Cairo, and finally facilities manager in London.
His daughter Stephanie, who worked for Reuters UKI marketing, wrote on Facebook: "He was passionate about keeping in touch with the news right up to the end - even asking me this week (amid a very serious illness) - so what is happening with Brexit then? (he was seriously dismayed about Brexit!)."
Funeral mass at Our Lady of Grace and St Teresa of Avila, 1 King's Road, North Chingford, London E4 7HP at 12:00 pm on Thursday 22 November followed by burial at Chingford Mount Cemetery, 121 Old Church Rd, London E4 6ST. A reception will be held at the Royal Forest Hotel, 4 Rangers Road, Chingford, E4 7QH from 2:15 pm.
The family requests no flowers, instead donations to fund the research of T-Cell Lymphomas like Sezary Syndrome via https://www.justgiving.com/fundraising/johnbhopper. ■