News
Reuters announces more job cuts
Monday 12 November 2018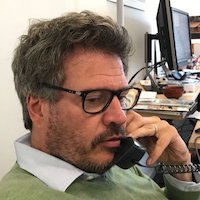 Reuters announced job losses around Europe in a re-organisation of dual-language bureaus and concentration of more editorial work offshore.
Simon Robinson (photo), editor, Europe, Middle East and Africa, said Reuters remains committed "to producing great journalism in multiple languages" but the agency's language services cannot remain as "separate, semi-autonomous collections of reporters within the bigger newsroom".
In a message to all editorial staff in the region, Robinson said: "We need to think of the language services instead, as the output - stories, graphics, newsletters - that we deliver to our customers. How and where we produce that content - in bureaus, in strategic centres or via automation - needs to change.
"In relevant bureaus, therefore, we plan to combine international and local language reporters into single reporting units, even as we continue to produce in both English and the local language. One bureau, two languages.
"This change will result in job losses in some of our bureaus around Europe.
"As we eliminate duplication of effort and move more work to Gdynia, it should allow our dual-language bureaus to focus on producing more of the high impact journalism - exclusives, scoops, and insight - that are valued by both our financial and our media clients.
"And it will allow us to redeploy assets to other geographies, including fast-growing markets in other parts of the world, to strengthen our offerings in data, graphics, and video, and to reinvest in our business so we can stay strong and grow over the coming years and decades."
Robinson did not say how many people would lose their jobs. Parting with colleagues is never easy, he said, and the coming weeks will be difficult both for those who leave and for other members of the team. ■
SOURCE

Reuters