News
Thomson Reuters eyes substantive buys after Blackstone deal
Tuesday 6 November 2018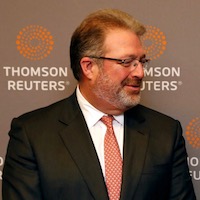 Reuters owner Thomson Reuters is looking to make substantive acquisitions to boost its legal and tax units after selling a majority stake in its financial terminal business, chief executive James Smith said on Tuesday.
It has set aside $2 billion for deals, he told Reuters in an interview, after raising $17 billion from selling 55 per cent of its financial and risk business to private equity firm Blackstone.
"We are interested in bigger, more substantive deals," Smith said. "I wouldn't expect a string of small, bolt-on acquisitions. We'd rather spend that $2 billion on a handful of deals rather than spread across a couple of dozen."
Thomson Reuters could spend more than $2 billion if it found the right purchase, Smith told analysts on a conference call after reporting earnings in the third quarter.
"If an absolute home-run deal presented itself, we would certainly consider it," he said.
Thomson Reuters shares rose 1.1 per cent to C$60.88 in morning trade on the Toronto Stock Exchange.
The company had previously indicated that it wanted to use the funds to bolster its legal and tax & accounting businesses, which are its two biggest units after the F&R deal. Last month, it agreed to buy Integration Point, a trade management software business, for an undisclosed fee.
F&R unit now operates as a standalone business named Refinitiv.
Smith said the company was on track for a solid 2018 and a better performance in 2019. It reiterated its forecast, originally given in May, for low single-digit revenue growth this year. On the conference call, Smith told analysts that the company's longer-term goal was for mid-single digit growth.
Edward Jones analyst Brittany Weissman said she was encouraged by growth in the company's core businesses but was cautious about the outlook.
"We believe there is some uncertainty around Thomson Reuters' earnings growth over the next couple of years as the company transitions to its new operating structure," she said.
Thomson Reuters reported a smaller-than-expected fall in Q3 profit. Earnings per share were 11 cents, adjusted for one-time items, down from 27 cents a year ago, hurt by a higher tax expense.
Excluding exchange rate effects, legal division revenue rose 4 per cent, tax & accounting revenue rose 3 per cent and revenue from Reuters News fell 4 per cent. ■
SOURCE