News
Thomson Reuters starts buying with proceeds of F&R spin-off
Tuesday 23 October 2018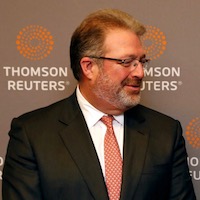 Thomson Reuters announced its first acquisition since relinquishing control of its financial and risk business three weeks ago.
It is buying Integration Point, which helps companies to automate compliance processes, increase visibility into the supply chain, and identify savings opportunities. The company is based in Charlotte, North Carolina, and has major offices in India, Mexico and Tbilisi, Georgia.
The deal is going through regulatory approval and standard closing conditions and is expected to close in November. Terms of the transaction were not disclosed.
"Recent debate over trade agreements like TPP, the United States-Mexico-Canada Agreement and Brexit illustrate the complexity of multilateral trade and the related compliance requirements our customers face," said James Smith (photo), Thomson Reuters president and CEO. "This acquisition will further strengthen our offerings in the high-growth global trade management space and support our leading position at the intersection of regulation and commerce."
Following the sale of a 55 per cent interest in F&R, how rebranded Refinitiv, Thomson Reuters is focused on supporting its core offerings in the legal, tax, regulatory and media markets. Reuters News remains under the control of Thomson Reuters.
Piotr Marczewski, president, Thomson Reuters' corporates customer market, called it a milestone moment.
"It complements our strategy to target fast-growing, adjacent market segments in which we can expand our presence," he said in a message to staff.
Robert Bahash, head of business development for the corporates customer market for Thomson Reuters, will lead the transition and operations of the business following the close. ■
SOURCE