News
Refinitiv vision: the Netflix of data
Thursday 25 October 2018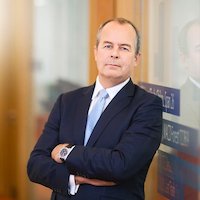 Refinitiv aims to become the Netflix of data in the battle for the multi-billion dollar global financial data market, says chief executive David Craig (photo).
Consumers used to splash out on plasma televisions but now the focus has shifted to the content itself, which can be viewed on multiple devices.
The battle lines are being redrawn away from Bloomberg's dominant territory, he believes, and the competitive landscape is changing completely towards one of multiple players. "The new battleground is around data," Craig told the Sunday Telegraph in a recent interview.
"Wind back the clock 15 years, all the value was tied up in these desktops and now the value is in the data architecture and data platforms. That's our strength and where we are by far the market leader," he said.
He does not deny there is a desktop competition going on, "but the new battleground is really interesting". "I wake up every morning worrying about the data platform."
Craig says being carved out of Reuters and becoming a stand-alone company with a 55 per cent controlling stake held by private equity investors led by Blackstone gives Refinitiv - formerly the terminals and data division of Thomson Reuters - new "focus", one not shared with the demands of a newsroom.
The orange of the Thomson Reuters brand is splashed across the carpets of Refinitiv's Canary Wharf office, the Telegraph said. But it is attempting to distance itself from the former owner, which has the remaining 45 per cent stake.
Bloomberg has a stranglehold on global markets, the newspaper said. It took a third of the financial market data and analysis last year, while Thomson Reuters' slice was 22.5 per cent, according to data from Burton-Taylor International Consulting.
The contrast in the fortunes of the two firms is stark in their growth rates, the Telegraph said. Refinitiv suffered a contraction of 3.1 per cent while Bloomberg enjoyed growth of 4.6 per cent.
"This thing has been starved of revenue growth," says Doug Arthur, an analyst at Huber Research Partners. "Forget about challenging Bloomberg. Can Blackstone open doors that Thomson Reuters couldn't do on its own? Can they get revenues growing?"
He adds: "To use a US football term, it's three yards and a cloud of dust. I don't think there's any magic solution."
Some 300 workers laid off at Refinitiv's Wrexham office in Wales last week are among the first to suffer in a shake-up that will look to shift investment into technology, such as the cloud.
Alastair Reid, an analyst at Berenberg, worries that after years of being squeezed during restructuring under Thomson Reuters, it has already had a lot of cost taken out.
He says: "The idea that you can take another 15pc of the cost base out easily without disruption, I think, is quite an assumption."
Reid fears that Refinitiv would be put under more intense pressure if a threatened Bloomberg starts to cut prices to fend off the advance of rivals.
"Bloomberg has reached the top [in terms of pricing] and is now starting to go the other way.
"That's the danger for Refinitiv. If Bloomberg became the same price as Refinitiv while remaining a better product, it has got a major problem."
Backed into a corner by growing competition, Bloomberg may quickly bite back. ■
SOURCE

Sunday Telegraph