News
Obituary: Donald Read
Monday 8 October 2018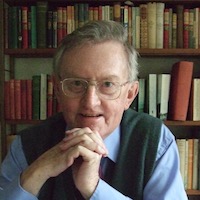 Donald Read (photo), who has died at the age of 88, was Reuters company historian and author of its official history, The Power of News.
Published in 1992, it chronicled the story of Reuters from the days of Paul Julius Reuter's pigeon post to the first transatlantic cables and the age of satellite and computer links. Read, a former president of the Historical Association, ended the history with the flotation of Reuters in London and New York in 1984. News chapters covered another five years.
Extensively revised and substantially rewritten for a second edition published in 1999, it remains the most thorough account of the history of Reuters and the people who developed and shaped it over nearly a century and a half.
Michael Nelson, former general manager, writes: "When Reuters decided it wanted to publish a new history of the Company, I asked the leading media historian of the twentieth century, Asa Briggs, for his advice on who should write it. He immediately recommended Donald Read, Professor of Modern History at the University of Kent at Canterbury.
"He will do a good job and finish it on time," he said. He did indeed.
As The Scotsman said: "…it is a fascinating, solidly researched and well-written book."
Reuters had no hesitation in buying 20,000 copies and giving one to each of its clients throughout the world. Donald Read had done Reuters proud.
A review in the Daily Mail said Reuters was to news what Rolls-Royce was to cars and Lord's was to cricket. "The biggest story to come out of Reuters is its own," it said.
Read died in hospital in Blackpool on 1 October. The funeral is private.
---