News
Aung San Suu Kyi defends verdict against Reuters journalists
Thursday 13 September 2018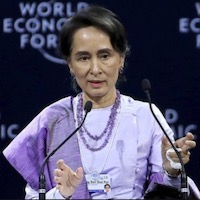 Myanmar's Aung San Suu Kyi (photo) has defended the jailing of two Reuters journalists, despite international condemnation.
The Nobel Peace Prize laureate said Wa Lone and Kyaw Soe Oo had broken the law and their conviction had "nothing to do with freedom of expression at all".
They were sentenced to seven years in prison on 3 September for possession of police documents while investigating the killing of Rohingya Muslims.
Suu Kyi also said her government could in hindsight have handled the Rohingya situation differently.
Since last year, at least 700,000 Rohingya have fled Myanmar, also known as Burma, after the army launched a brutal crackdown in response to attacks by a Rohingya militant group.
The UN has called for top military figures to be investigated for genocide.
Suu Kyi, who is not Myanmar's elected president but is almost universally viewed as such, had been under intense pressure to comment on both the Rohingya crisis and more recently the journalists, following their jailing earlier this month.
This week, a UN rights body accused Myanmar of "waging a campaign against journalists" and the verdict has sparked criticism internationally, including from US Vice President Mike Pence.
Breaking her silence on Thursday in response to a question at an international economics conference in Vietnam, Suu Kyi said the case against the Reuters upheld the rule of law.
She suggested that many critics had not actually read the verdict, saying: "They were not jailed because they were journalists, they were jailed because… the court has decided that they have broken the Official Secrets Act."
The two, she added, had "every right to appeal the judgment and to point out why the judgment was wrong".
Human Rights Watch responded to her speech by saying that she "got it all wrong".
"She fails to understand that real 'rule of law' means respect for evidence presented in court, actions brought based on clearly defined and proportionate laws, and independence of the judiciary from influence by the government or security forces," deputy Asia director Phil Robertson said.
"On all these counts, the trial of the Reuters journalists failed the test." ■
SOURCE