News
'Don't drag out case against Reuters reporters' - embassy
Wednesday 14 March 2018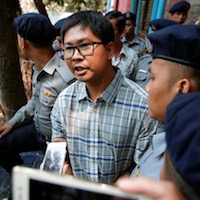 Myanmar was urged on Wednesday not to drag out legal proceedings against two Reuters journalists, as they appeared in court for the tenth time since their arrest three months ago on charges of possessing secret government papers.
Preliminary court hearings began in January to decide whether Wa Lone (photo), 31, and Kyaw Soe Oo, 27, will face charges under the colonial-era Officials Secrets Act, which carries a maximum penalty of 14 years in prison.
Wearing handcuffs, both men were rushed in and out of court by police, giving them only a brief opportunity to talk to their families or reporters.
"The news about Rakhine needs to be written and expressed openly in our country. This has becomes a more complex problem because of this (media oppression)…" Wa Lone told reporters outside the court.
Kyaw Soe Oo was prevented by police from hugging his young daughter.
Denmark's embassy in Yangon, which has followed the case closely, said ahead of the latest hearing that the journalists should be "thanked and not punished" for their reporting on Rakhine state - where they found evidence of security forces' involvement in the killing of 10 Rohingya Muslim men.
"Nor should they be subject to a dragged out trial that appears to be set to last for months while keeping Wa Lone and Kyaw Soe Oo incarcerated, away from their families and their work," the embassy said in a statement.
Two civilians that police brought to witness a search of Wa Lone's family home the evening after the reporters were arrested gave evidence on Wednesday.
Min Min, a neighbourhood official in north Yangon, told the court he joined nine or 10 policemen searching the residence and signed a form to confirm a laptop with a charger and a bag, a hard drive and a notebook were discovered there.
Asked by defence lawyer Than Zaw Aung during cross-examination whether any government papers were discovered in the search, he said no. ■
SOURCE