News
Jailed Foundation manager makes first court appearance in Iran
Wednesday 3 August 2016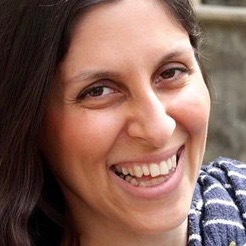 Thomson Reuters Foundation manager Nazanin Zaghari-Ratcliffe, 37, has appeared before a revolutionary court in Iran for the first time since her arrest four months ago for allegedly plotting to overthrow the regime.
She was "deeply upset" and "desperate" after Monday's court hearing, according to her husband, Richard Ratcliffe. She was allowed to telephone him from the high security wing of Evin jail, which is controlled by the Revolutionary Guard Corps.
"She confirmed that she remains frail - she is still losing her hair, she is struggling to regain any weight," Ratcliffe, 41, said. "This remains a very cruel case."
It was reported that she will stand trial before judge Abolghasem Salavati, who became notorious for imposing death sentences on protesters who marched against a disputed presidential election in 2009.
The charges against Zaghari-Ratcliffe, who holds dual British-Iranian nationality, are unclear. She was previously accused of plotting the "soft overthrow of the Islamic Republic" through "her membership of foreign companies and institutions". She has now been told to appoint a regime-approved lawyer.
She was arrested at Tehran's Imam Khomeini International Airport on 3 April as she tried to leave Iran after visiting her parents.
Her two-year-old daughter, Gabriella, who was travelling with her, has remained in the care of her grandparents. The authorities retained the child's British passport. She has been permitted weekly visits in prison from Gabriella.
"She is desperate that our daughter has been kept away from her mother and father now for four months," Richard Ratcliffe said. ■
SOURCE