News
Reuters journalists to get new 360-degree cameras
Monday 1 August 2016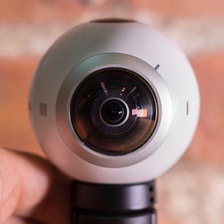 Fifty Reuters photo-journalists in 25 countries are to be equipped with new 360-degree cameras.
The Samsung Gear 360 (photo) cameras and the new content will fuel Focus 360 - Reuters' new virtual reality and 360-degree video and photography worldwide news portal, which launches online and on Android on Tuesday and on iOS on Friday.
"Our agreement with Samsung allows us to enhance our visual journalism and provide a more absorbing experience for our viewers," Stephen Adler, editor-in-chief, said in a statement. He said the new content would help viewers to gain a new perspective and better understanding of the context of a news story.
The eye-shaped camera uses both front- and rear-facing lenses to record seamless, 360-degree videos and photos. Each lens sees a full 180-degrees horizontally and vertically, creating a truly spherical field of view when combined.
Reuters journalists will be among the very first people to use the Gear 360 camera. It is not yet available to the general public. ■
SOURCE