News
Obituary: Gordon Martin
Friday 29 July 2016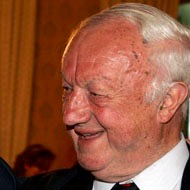 Former Reuters journalist Gordon Martin (photo) died from a heart attack at his home in Geneva on Wednesday. He was 88.
Martin was a roving correspondent in Africa and Latin America for a decade during the later 1950s and the early 1960s. After Reuters, he moved on to the BBC and The Daily Telegraph. He kept in touch with many of his old colleagues from his time with Reuters.
Until 2013 when he announced his retirement he worked from the UN's European headquarters at the Palais des Nations in Geneva for Radio Vatican, writing his reports on a manual typewriter rather than a computer. He had no mobile telephone and admitted "I don't understand a lot of modern gadgetry and I think sometimes gadgets get in the way of clear use of the English language."
Martin had stumbled into journalism after studying classics and modern languages at Oxford University followed by a spell as a teacher. In 1955 he made a last-minute decision to take up a traineeship with Reuters instead of going into the wine business. He could speak Italian and so was posted to Rome.
After 10 years with Reuters Martin took up the post of Latin America correspondent for the BBC. He reported from every country in the region - from Bolivia after the execution of Che Guevara, to Fidel Castro's Cuba. After the death of President Gamal Abdel Nasser of Egypt in 1970 he moved to Cairo.
The funeral is at Geneva's English Church on Tuesday 2 August. ■