News
Thomson Reuters revenue flat in 'challenging' Q2
Thursday 28 July 2016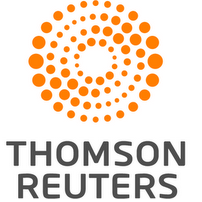 Reuters owner Thomson Reuters reported flat quarterly revenue excluding currency effects and reaffirmed its full-year outlook for low sales growth over the year.
Second quarter net earnings were $350 million or 45 cents per share compared with $281 million or 33 cents per share a year ago. Adjusted for special items, earnings were 50 cents per share. Analysts on average were looking for 49 cents.
The company reaffirmed its February forecast of low single-digit revenue growth for the full year. It expects two to three per cent revenue growth excluding recoveries revenues in its main Financial & Risk division, which are low margin and are expected to decline as companies that distribute data through Thomson Reuters move to direct billing with their customers.
"Our core business showed resilience and we continued to make progress throughout the second quarter despite a challenging backdrop and turbulent market conditions for many of our largest customers," James Smith, president and CEO, said in a statement released with the results. "We are tracking to our full-year target and are well positioned to help our customers navigate the global trends affecting their industries."
Sales in Financial & Risk, which accounted for about half of the company's total revenue, outpaced cancellations for the ninth straight quarter. The division, which provides news and analytics to financial services companies, saw revenue fall two per cent to $1.52 billion.
By geography, F&R revenues in the Americas and in Asia were each up one per cent, but down five per cent in Europe, Middle East and Africa.
Despite volatile markets and uncertainty among financial services clients around the UK vote to leave the European Union, the company reaffirmed its forecast of positive organic revenue growth for the year.
"A lot of clients are preparing for multiple eventualities but being cautious about acting before they know what is going to happen," Smith said in an interview with Reuters.
Reuters reported that some analysts fear that uncertainty around Brexit, which has rippled across global markets, could have negative implications for the Financial & Risk business.
Some 43 per cent of the the division's revenue is from Europe, according to estimates in a post-Brexit report by TD Securities.
"I think there is no question that we are anticipating there will be continued pressure on headcount in the European banking sector, including the UK, and that will put pressure on the terminals business," Smith said.
The uncertainty, however, also provides an opportunity for Thomson Reuters to prove its value by providing clients with news and answers, he said.
Thomson Reuters' total revenues were flat from a year earlier at $2.77 billion before currency, but fell one per cent when currency changes were factored into the results. Analysts on average estimated $2.83 billion in revenue.
Revenue in its Legal business was $846 million, down one per cent when factoring in currency changes. Before currency, Legal's revenues were up one per cent. Tax & Accounting's revenue was down one per cent to $324 million including currency, and up one per cent before currency.
Reuters News revenues were $79 million, seven per cent higher compared with the prior-year period. ■
SOURCE