News
Nazanin Zaghari-Ratcliffe 'increasingly frail and desperate' in Iran prison
Wednesday 27 July 2016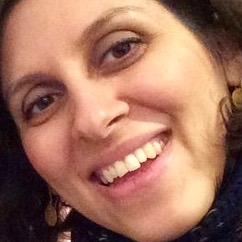 Thomson Reuters Foundation project manager Nazanin Zaghari-Ratcliffe, imprisoned in Iran since April, is reported to have suffered dangerous weight loss, lost some of her hair and become virtually unable to walk.
She has spent around six weeks of her time in detention in solitary confinement causing her health to deteriorate, according to a letter to British foreign secretary Boris Johnson. The letter, from a law firm on behalf of her husband Richard Ratcliffe and the Foundation, urges Johnson to take on this "harrowing and urgent matter", the Press Association reported.
Iran's Revolutionary Guard (IRG) claims Zaghari-Ratcliffe participated in the "design and implementation of cyber and media projects to cause the soft toppling of the Islamic Republic".
Her daughter, Gabriella, aged two, had her passport confiscated when her mother was arrested at Tehran airport on 3 April and is being looked by her Iranian grandparents.
The letter reads: "We appreciate that you have just taken over the role as Foreign Secretary and will be facing many competing pressing demands.
"But the plight of Nazanin is of utmost urgency and cannot continue to be ignored. She has been subjected to the harshest of injustice, and it is critical that she now receives the full immediate support and attention from the highest levels of Government."
It continues: "We ask you to do all in your power to secure the freedom of this entirely innocent and increasingly frail and desperate young woman, who is a citizen of London with (dual) British nationality, and to bring her and her two-year old British daughter back to England."
Speaking about his last telephone conversation with his wife around a month ago, Richard Ratcliffe said: "She was just really sad and it was quite emotional: she cried and I cried. She said she was exhausted about how long it had gone on for and just 'please do what I could'."
A Foreign Office spokeswoman said: "We have received the letter and will respond formally. We are deeply concerned by recent reports that Mrs Zaghari-Ratcliffe has been charged but has not been allowed to see a lawyer. We have been supporting Mrs Zaghari-Ratcliffe's family since we were first made aware of her arrest in April. ■
SOURCE