News
Thomson Reuters 'off to solid start' despite lower-than-expected revenue
Tuesday 26 April 2016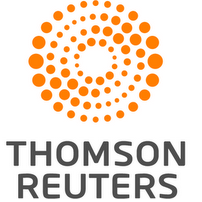 Thomson Reuters reported lower-than-expected first-quarter revenue, hurt by currency fluctuations. Revenue increased one per cent to $2.79 billion from a year earlier before factoring in currency changes. After currency changes, it fell one per cent.
Analysts on average were expecting $2.81 billion. Sales to financial customers were up in the quarter.
Net income from continuing operations fell to $210 million from $280 million.
The Financial & Risk business, which provides news and analytics to financial services companies, generated revenue of $1.51 billion, or about half of the company's total sales. Sales outpaced cancellations for the eighth straight quarter.
Reuters News revenues were $75 million, up $1 million from the prior-year period.
"The year is off to a solid start," said James Smith, president and chief executive officer. "Today's results are in line with our expectations and it is encouraging to see the continued positive trajectory of our business, despite a somewhat volatile and challenging period in external markets during the first quarter."
The company re-affirmed its 2016 full-year outlook. It expects low single-digit revenue growth of two to three per cent excluding Financial & Risk's recoveries revenues, which are low margin and are expected to decline as partners move to direct billing with their customers.
In February, the board of directors approved a $0.02 per share annualised increase in the dividend to $1.36 per common share. A quarterly dividend of $0.34 per share is payable on 15 June to common shareholders of record as of 19 May.
In the first quarter the company repurchased approximately 11.7 million shares at a cost of about $432 million. Approximately $260 million of these repurchases were part of a $1.5 billion buyback programme announced in February.
The biggest shareholder in Thomson Reuters is Woodbridge, the investment company of chairman David Thomson's family, which owns a majority tranche of 452 million shares. ■
SOURCE