News
Trust Principles guardians name new director
Tuesday 22 December 2015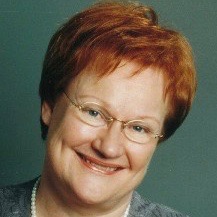 The Thomson Reuters Founders Share Company, guardian of the Thomson Reuters Trust Principles, appointed former Finnish president Tarja Halonen (photo) to its board of directors.
The Trust Principles were created in 1941 to preserve Reuters' independence, integrity and freedom from bias. They were adopted across the entire merged group when Reuters was taken over by Thomson in 2008.
Halonen became Finland's first female head of state in 2000 and served two terms until 2012. The Social Democrat began her political career in Finland in 1974.
Uffe Ellemann-Jensen, chairman of the Founders Share Company's board, said: "President Halonen is a celebrated global leader with a long-standing commitment to democracy, justice and equality, and we are honoured that her deep experience will be applied to the Founders Share Company. A perfect addition to the Board of Directors, she joins an impressive roster of colleagues from politics, diplomacy, public service and business."
The appointment will take effect on 1 January 2016. ■
SOURCE