News
Thomson Reuters spot forex volumes lowest in three years
Monday 7 December 2015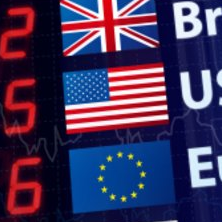 Daily spot trading volumes on foreign exchange platforms run by Thomson Reuters fell to a three-year low of $90 billion in November.
That marked a fall of 13.5 per cent from the previous month, and helped drag total daily volumes across all types of trading, including swaps, forwards and options, to a two-year low of $316 billion.
The $90 billion average daily spot trading in November was down from $104 billion the month before and down 25 per cent from the same month a year ago. This year's high was $135 billion in January.
The overall total of $316 billion in November was down 10.5 per cent from the previous month and almost nine per cent lower than the same month last year.
Volumes traditionally tail off at year-end as market participants close their books, either booking profits already made during the year or reluctant to make fresh bets in illiquid and potentially volatile conditions. ■
SOURCE