News
Heads roll as Reuters re-organises media sales
Friday 4 December 2015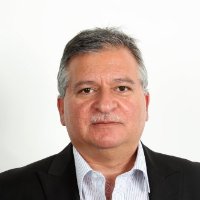 Key Reuters sales executives have been let go in the latest shake-up of the agency's media operation.
Out go senior sales management vice-presidents Samir Sabbah (photo), who joined as Visnews bureau chief in Beirut in 1986, Joachim Schmaltz and Jill Grinda. Another, Shane Cunningham who headed the reuters.com sales force, has opted to leave. At least seven other less senior media business and sales executives are understood also to be affected.
The departures were announced by Claudia Palmer, interim chief commercial officer, in a note to staff that said Reuters was reinventing its sales organisation to make it more effective.
The new structure replaces one established in February 2014 to place greater emphasis on emerging markets and new areas of growth.
Other media businesses will be unchanged. Isaac Showman continues to manage Reuters TV and Bill Riordan continues to manage reuters.com. Anita Tobias remains agency global head of sales based in New York.
The changes are part of a re-organisation of the media team into a single global operation headed by Daniel Mandell, chief revenue officer, also based in New York.
A public announcement issued on Thursday said the new set-up "is designed to accelerate growth and work hand-in-glove with clients as they adapt to the dynamic media landscape". It "will partner with clients to find new ways of engaging with their own customers, developing customized news packages to better meet their needs".
Palmer told staff: "Creating a single sales team that speaks to customers in a unified voice, with an integrated offering and consultative, solutions-oriented approach, will undoubtedly help us better serve our clients' needs, and grow faster ourselves."
She wrote that the new sales group would be known as Reuters Media "since 'commercial areas of Reuters' doesn't exactly roll off the tongue".
Ongoing digital disruption, new approaches within marketing, new entrants in the media space and the widespread availability of free news greatly affected Reuters' customers, and in turn, what they needed from the agency, Palmer wrote.
One key core priority will be to significantly increase the focus on digital and mobile - what that means for customers and what Reuters offers.
"As we reinvent our sales organisation, there are some roles that are going away, some that are changing, and several new positions being created - but we expect our overall headcount to remain about the same," Palmer added. ■
SOURCE

Reuters