News
Spot forex volumes on Thomson Reuters dip for second month
Tuesday 10 November 2015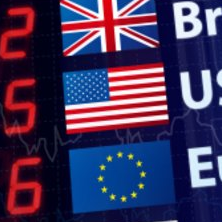 Daily spot trading volumes on foreign exchange platforms run by Thomson Reuters fell 4.5 per cent in October from the previous month as some of the recent volatility created by China's yuan devaluation ebbed.
Figures issued by the company on Tuesday also showed total daily volumes across all types of trading, including swaps, forwards and options, slipped to $353 billion from $365 billion the previous month, and from $374 billion in October 2014.
Average daily spot trading dropped to $104 billion in October from $109 billion, retreating further from a five-month high of $119 billion seen in August.
Volumes jumped in August after China shocked world markets by devaluing its currency, triggering worries about a global slowdown. That forced many investors to unwind risky trades funded in the low-yielding yen and the euro and seek safety in more liquid assets like German Bunds and Treasuries. ■
SOURCE