News
Cost-cutting helps Thomson Reuters beat analysts' forecasts
Wednesday 30 July 2014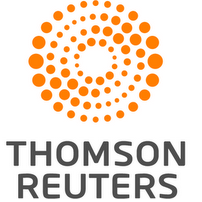 Thomson Reuters reported a nearly flat but better than expected quarterly profit that beat analysts' estimates as cost cuts helped boost results.
Adjusted for special items, second-quarter earnings were $415 million, or 51 cents per share, compared with $403 million, or 48 cents per share, a year earlier. Analysts on average were expecting 46 cents per share.
"Our second-quarter results build upon the good start to the year and are consistent with our full-year expectations," chief executive James Smith said in a statement. "The actions we are taking are building a platform for sustainable growth and we will continue to simplify our organization and position resources behind the most promising growth opportunities."
Thomson Reuters has been challenged in recent years as key customers at financial institutions and law firms cut costs and jobs. Likewise, the group has also sought to control costs and scale back its workforce. Thomson Reuters said last October it planned to cut 3,000 positions, or about five per cent of the workforce. The job cuts - mainly for the core financial and risk division - followed a round of 2,500 firings announced in February 2013.
The group is in the midst of an aggressive programme to transform itself from a portfolio business to an integrated enterprise. The aim is to allow it to leverage the resulting economies of scale. Management and analysts expect this transformation will not be fully achieved until next year.
Revenue before currency changes at the financial and risk unit, which serves banks and other financial institutions, fell two per cent to $1.66 billion. However, Thomson Reuters said net sales, which indicate future revenue growth, were positive for the quarter.
Revenue rose one per cent to $850 million at the legal division and increased 14 per cent to $324 million at the tax and accounting division.
The company said second-quarter revenue from ongoing businesses was $3.15 billion, compared with analysts' expectations of $3.13 billion.
Reuters News Q2 revenues were $82 million, down one per cent from the prior-year period.
Net earnings were $249 million, compared with $248 million a year earlier.
Thomson Reuters completed a $1 billion share buyback scheme announced last October. It plans more repurchases up to another $1 billion of its shares by the end of next year.
The company affirmed its full-year earnings forecast and expects revenue to be unchanged from last year's $12.5 billion.
Investors liked the results. TRI shares traded in New York reached $38.45 from $37.29 at yesterday's close. In Toronto, they reached C$41.87 from C$40.70.
Transcript of CEO James Smith's earnings call with analysts ■
SOURCE