News
Coders: Thomson Reuters offers $20,000 for Eikon filter
Tuesday 15 July 2014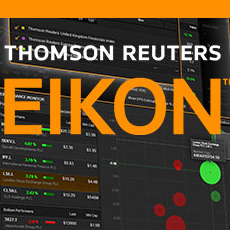 Thomson Reuters is offering $20,000 for help to improve Eikon, its flagship desktop data terminal.
Here's the pitch in the Thomson Reuters Eikon Text Tagging Challenge:
"Investors are flooded every day by thousands of news items from many different sources - blogs, feeds, internal reports, news services - yet only a small number of those items may be of interest to a particular investor. Filtering these news items for companies or organizations of interest is becoming increasingly important as the number and variety of sources expands, yet it is becoming more difficult because many of these news items are not explicitly tagged with the relevant companies or organizations. The Seeker, Thomson Reuters, is searching for an algorithm to accurately tag incoming news items by relevance for companies or organizations mentioned within the news item."
The winning algorithm must accurately tag, by relevance per company or organization, incoming news items from a variety of sources. It involves tagging items by the companies or organizations relevant to the item while avoiding false positive tags. For example, a story about the apple crop in Washington State should not be tagged for Apple, Inc. or Washington State University.
The deadline is 26 August. Employees of Thomson Reuters are not eligible to participate in the challenge.
Click the link below for more details. ■
SOURCE