News
Ex-Reuters newsman jailed for seven years in Egypt
Monday 23 June 2014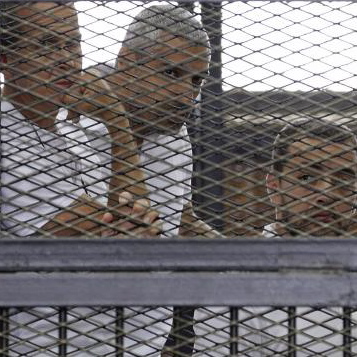 Former Reuters correspondent Peter Greste was jailed for seven years on Monday after an Egyptian court convicted him of helping a terrorist organisation by spreading lies.
Greste, an Australian who previously worked for Reuters in Afghanistan, Bosnia and Serbia, raised his fists in the air as he and Canadian-Egyptian national Mohamed Fahmy, Cairo bureau chief of Al Jazeera English, were each sentenced to seven years. A third defendant, Egyptian producer Baher Mohamed, received an additional three-year jail sentence on a separate charge involving possession of ammunition.
They were detained in late December and charged with helping the terrorist organisation by publishing lies that harmed national security and supplying money, equipment and information to a group of Egyptians. They have been held at Egypt's notorious Tora Prison for six months, in a case that has drawn criticism from Western governments and human rights groups.
One Dutch woman and two Britons were sentenced to 10 years in absentia on the same charges of aiding a terrorist group, seen as a reference to the banned Muslim Brotherhood.
The three men had looked upbeat as they entered the courtroom in handcuffs, waving at family members who had earlier told journalists they expected them to be acquitted.
There was a loud gasp as the verdicts were read out and some of the defendants' relatives broke down. Shaken and near tears, Greste's brother Michael said: "This is terribly devastating. I am stunned, dumbstruck. I've no other words."
Al Jazeera said the rulings defied "logic, sense and any semblance of justice".
Judicial sources told Reuters the verdicts could be appealed before a higher court and a pardon was still possible. Egypt's public prosecutor last week ordered the release of another Al Jazeera journalist, Abdullah al-Shamy, on health grounds after he spent more than 130 days on hunger strike.
The government has declared the Muslim Brotherhood a terrorist group. The Brotherhood, which has been protesting against the government since the army toppled Islamist president Mohamed Mursi in last July, says it is a peaceful organisation.​
Western governments and rights groups have voiced concern over freedom of expression in Egypt since Mursi's ouster.
Egyptian officials have said the case is not linked to freedom of expression and that the journalists raised suspicions by operating without proper accreditation.​
PHOTO: Peter Greste (L) with the two other defendants in a cage at a previous court hearing. ■
SOURCE