News
Yuan trading lifts Thomson Reuters' forex volumes
Friday 7 February 2014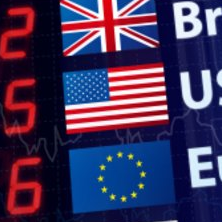 Daily spot foreign exchange trading volumes on Thomson Reuters dealing platforms rose 27 per cent in January from a month earlier, helped by a rise in Chinese yuan trading, the company said on Friday.
Average daily spot volumes were $117 billion, the highest level since last summer, although they are still below the $126 billion recorded a year ago.
Traded volumes of the yuan on Matching and FXall climbed to record highs, becoming the seventh most traded pair by volume on Matching.
On FXall, the electronic foreign exchange platform owned by Thomson Reuters, average daily volumes rose 23 per cent month-on-month to $123 billion, compared with $109 billion recorded a year ago.
The platform also set a record high for a single day's traded volume of $197 billion on 29 January, as Turkey and South Africa aggressively raised interest rates to support their currencies. ■
SOURCE