Library
'Greed and intrigue', but no villainy
JOHN LAWRENSON & LIONEL BARBER - The Price of Truth: The Story of the Reuters Millions - Mainstream Publishing - 1985, revised 1986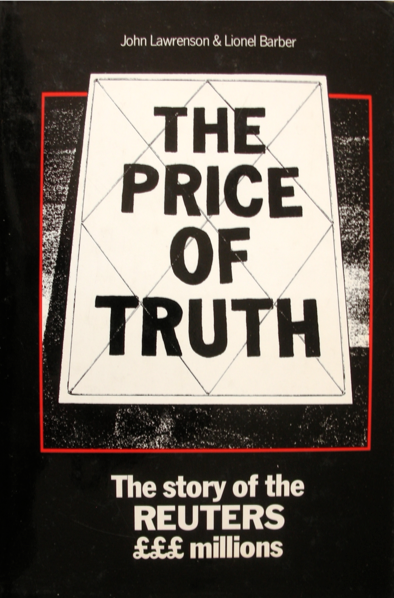 This was the first book about Reuters since the publication of Reuters' Century 34 years earlier. John Lawrenson (Reuters 1954-1971) had been manager for European economic services when he resigned. Lionel Barber was a financial newspaper journalist.
Their book, produced without benefit of access to company archives, recounted events leading up to the 1984 flotation of Reuters in London and New York. It was billed as "a story of greed and intrigue and of how a small group of men broke a solemn undertaking in their efforts to unlock a treasure house".
Kevin Garry* (Reuters 1960-1986), assistant general manager, reviewed the book at length in two issues of the staff magazine Reuters World No. 30 (August 1985) and No. 31 (September 1985). He didn't think much of it.
"This is not a very good book. It is slapdash, littered with avoidable errors, prone to pass off the authors' assumptions as fact, and stuffed with clichés of thought and style," he wrote.
"Fortunately it is not a very bad book either - certainly not half as bad as the authors' and publishers' claims gave ground for expecting."
Garry said the authors seemed almost relieved not to find the villainy they lead their readers to expect. He conceded that, despite errors, the book was well researched. "Some of it is quite jolly with traditional anecdotes of life in Reuters and other news agencies."
*Kevin Garry died on 18 February 1986 eight days after suffering a heart attack shortly after his 49th birthday. ■