Archives
How they brought the good news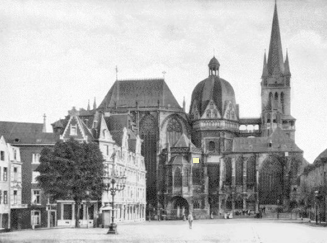 For centuries, Aachen (also known by its French - or Frankish - name of Aix La Chapelle) had exploited its central position at one of the cross-roads of western Europe. By the middle of the 19th century, it was strategically placed close to the borders of Prussia, Holland and France. A journey of 20 miles westwards, keeping just within the southernmost extremity of Holland, brought the traveller to Belgium. But, although this advantageous position had served the town well when the horse reigned supreme, things were starting to change - and so it seemed to some - to Aachen's disadvantage.
At first glance fortune appeared to have smiled on Aachen because the town fathers had politically manoeuvred to be directly located on one of the very earliest international railway lines, from Cologne in Prussia to Antwerp in Belgium, completed in 1843 and still in use today. At Mechelen (or, to French speakers in Belgium, Malines) the line is joined by one running north-east from Brussels, built as long ago as 1835. The year 1846 saw the opening of a direct telegraph line linking Brussels and Antwerp.
Eastwards, in the other direction, the train ran to Cologne but no further. In central Cologne, the traveller to Berlin, the Prussian capital, was obliged to quit the railway and continue onwards by the much slower and more expensive coach. On 1 October 1849, the Prussian State Telegraph had been completed between Berlin and Aachen. Although of no help to travellers, this, at least, meant that information and messages could be quickly exchanged between the two places.
So, telegraphically, Aachen had good communications with Berlin. Looking westwards to Brussels and thence onwards to Paris the picture was less good. To reach the telegraph station at Antwerp meant a long train journey of about 90 miles. To reach the telegraph station at Brussels meant an even longer train journey involving a slow and tedious change at Mechelen/Malines. It was all rather like travelling from London to Manchester via Norwich, or from New York to Washington via Harrisburg, PA.
Of course, an inconvenient situation will always bring profit to someone and in the Aachen of 1849, those positioned to exploit it were the owners of the stage coach lines. Normally, the day before a railway opened marked the last day of the stage coach services. But here, the distance from Aachen to Brussels, going directly by road, was only 75 miles. The train, going the much longer route, took 10 hours. The coach could do it in six to seven hours. In fair weather, a rider could reduce this even further. If someone urgently needed to transfer himself or a message to or from Brussels the horse still offered the fastest means, just as the fictitious "Good News" had (slightly improbably) been brought from Ghent to Aix [La Chapelle] between midnight and early morning, as related in Robert Browning's almost-contemporary poem of the 1840s.
Julius Reuter had precisely the right knowledge to evaluate and read this situation of seemingly conflicting complexities. Well travelled in Prussia, Belgium and France and having lived in London, he knew about getting from one place to another. The telegraph gap between the end of the Berlin telegraph and the beginning of the line onward to Paris, which began at Brussels, was self-evident. But, from his short spell in Paris with Charles-Louis Havas, he had learnt ways in which communication times could be reduced by the judicious use of telegraph lines, by pigeons, or by a combination of both. He understood carrier pigeons and how they worked. He had grasped the most basic principle that a pigeon will fly only in one direction - back to its home loft. If the sole transport between two points consists of a ruinously expensive coach and a slow carrier's cart - forget it! No organised pigeon service could work. What was needed was an economic means by which, on a daily basis, you could return your wicker baskets of pigeons to connecting points at each end. Using the relatively cheap railway via Mechelen/Malines would just about be feasible. With someone to travel with the birds, making sure that they had food and water, they could survive the journey and batches could be sent each day, in both directions. For this part of the equation, cost, not maximum time saving, was the predominant factor.
Julius Reuter had the advantage of a secret weapon, in the form of the long-suffering, hard-working, always loyal, Frau Reuter
Julius Reuter will not have been the only one to have identified this as a situation where a short-term killing could be made. Anyone with an understanding of communications could have seen that things would not remain as they were for very much longer and that, sooner or later, a telegraph line would link Aachen with Brussels and connect with the Prussian Telegraph. The field was wide open for the man who could get there first and seize the moment. Possession of an up-and-running pigeon service was going to make it that much harder for a rival to appear on the scene later.
Julius Reuter - as those who have read my accounts of his story so far will know - had the advantage of a secret weapon, in the form of the long-suffering, hard-working, always loyal, Frau Reuter - the former Clementine Magnus.
The four years since her marriage had been no bed of roses for her. We know that she lost her first baby a month after its birth, and we guess that several other children came along who also died, either at birth or in infancy. The couple had little money and every venture which her husband tried had ended in failure. They had no settled home and Clementine had been pulled from pillar to post in a succession of cheap lodging houses. Since her marriage in London, she had moved with her husband to Berlin, to Paris and back to Berlin again. In no sense could they be seen as a conventional 19th century bourgeois family.
This was a situation which called for someone fast on their feet, who could move quickly when circumstances demanded. With no settled home and no children, Julius and Clementine Reuter fitted the bill perfectly. Clementine was well-educated, quick-witted and intelligent. Unencumbered by the demands of a family, she was unusually able to work with her husband and perform as an unpaid, full-time assistant. Having worked with Julius in Paris, she knew and understood the news agency business and understood that even a pigeon operation needed more than one individual. Someone had to man (or woman) the office while another went to the telegraph office, to the station, to see subscribers and so on. Financially, the couple could afford no more than an occasional office boy. Vitally for the Reuters, it was the fact that Clementine was unconventionally able and experienced which turned the Aachen venture into a realistic runner.
On a winter's day at the end of 1849, a certain rather shabbily-dressed Herr and Frau Reuter arrived in Aachen from Berlin and were observed agreeing to rent a room at Heinrich Geller's lodging house, above his pub at 117 Pontestrasse near the railway station.
PICTURE: A mid-19th century engraving of the Imperial Cathedral in Aachen as Paul Julius Reuter would have known it. ■