Archives
New name, same old failure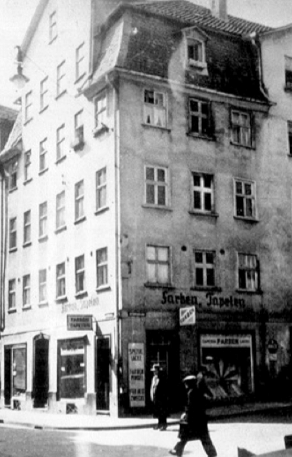 On Wednesday 29 October 1845 the steamship Neptune from Hamburg sailed up the Thames and docked. By law, the ship's master was obliged to provide the port authorities with a list of non-British aliens aboard; and amongst those stepping ashore, rather unsteadily, after their three-day voyage from Prussia, were a certain Mr and Mistress Josaphat. He was documented as a Kaufman - a merchant.
As a partner in Reuters Publishing House of Berlin, we may guess that 29-year-old Herr Josaphat had come to promote his firm's business and, perhaps, to open a London branch. For a publisher of books in German, this might, at first sight, appear to be rather optimistic but there was some logic to it, as we shall see shortly.
Did he bring some samples of books over with him from Hamburg? If so, his luggage must have been heavy.
Herr and Frau Josaphat had little money. They needed somewhere inexpensive to stay, but had no friends or connections in London. So they made their way, with their luggage, to Bury Street, deep in the old City of London, and booked in at number 24, a boarding house, run by one Henry Levin.
In the 1840s Bury Street formed part of a congested cosmopolitan district with a strong German and European flavour. The wall of Bevis Marks Synagogue, the oldest synagogue in England, founded in 1701, runs along one side, while the street directories and censuses for the period tell us that this was an overwhelming Jewish and German locality. The predominant languages to be heard on the streets were probably German and Yiddish; and for Josaphat, a rabbi's son from Kassel, it must have been very much like home. But while, on first meeting, it may have appeared to Henry Levin that here was a fairly typical young German-Jewish couple hoping to make their way in business, it will have soon become clear that things were not all as straightforward as he might have expected.
In the first place, the blonde Frau Clementine Josaphat was not Jewish at all. Taller than her dark-haired husband, she was the daughter of a Lutheran pastor in Berlin. In the second place, her husband was no longer using Israel, his original first name. Some time before 1841, he had adopted a new name, Julius. This was the Roman name for a boy born in July - as Josaphat had been - so it is not difficult to guess why it was chosen.
Julius's attempt to develop a London-based opening for Reuters Publishing House was unsuccessful
For a publisher of German books seeking a market in England, Josaphat had come to the right part of London. This much would be clearly apparent to Levin. Not only was there the large German-speaking Jewish population, gathered around Bevis Marks Synagogue, but a short walk away in Whitechapel were the German Lutherans, centred on their own church in Alie Street. This second group was then about 16,000 strong; a significant number. A market for German-language books obviously existed, and Josaphat had hopes of exploiting it.
What Levin must soon have perceived was that the Josaphats - in particular Frau Josaphat - had a non-business agenda. Having arrived on a Wednesday, they quickly arranged an appointment with Louis Cappel, the German Minister at Alie Street Lutheran Church. Although they had been married two days before they left for London, Clementine seems to have wanted a second (Lutheran) ceremony. No documentation survives to explain why. All we can surmise is that the earlier ceremony had been a civil one, probably in Hamburg, and that Clementine felt that she would not be properly married until she had been through a Christian ceremony.
The first part of the process - Julius's baptism - was fixed for Sunday 16 November. It was decided that Julius would be received with the additional Christian name of Paul. This was an appropriate reference to St Paul who, after his conversion on the road to Damascus, had changed his name from Saul to Paul.
However, there was an important re-naming - one which still resonates round the world today. As well as adding a new Christian name, Julius decided to alter his surname. There was no religious requirement for this, so it must have been a decision made entirely by the couple. Rather than be known as Herr Josaphat of Reuters Publishing firm, he now chose to be Herr Reuter of Reuters. But simplicity may not have been his only motivation. The name was a well-known, solid-sounding German one. And so the Baptismal Register for St George's Lutheran Church records that, on 16 November 1845, Paul Julius Reuter (formerly Josaphat, by birth an Israelite) became a Christian.
On the following Sunday, a young, unmistakably-German couple - she in her poke bonnet and he in his tall hat - were to be seen leaving their lodgings at 24 Bury Street for the short walk to the church in Alie Street. This was the day of their "repeat" marriage ceremony. It took place before the same witnesses as the week before. The fact that the witnesses were supplied by the church authorities gives us a picture of a short, business-like event, not an occasion attended by family and friends.
Julius's attempt to develop a London-based opening for Reuters Publishing House was unsuccessful. Either the German-speaking community in England did not buy enough books or other publishers had cornered the market. The two Reuters soon decided to cut their losses and return to Germany where Julius left the firm to try other business ventures. However, business failure did not mean marriage failure, for there is little doubt that theirs was an enduring love-match.
They had married even though neither party had anything to gain materially or socially from starting out together. At least in the early days, the clues increasingly point to Clementine's half of the partnership being a very strong one. Intelligent and capable, she showed herself prepared to work long hours, side-by-side with her husband. Would he have achieved as much without her drive and belief in him? The answer is perhaps not.
As for Henry Levin, he disappears from view early in 1851, just before the Reuters again arrived in London. This time, they came to open their small "Submarine Telegraph Agency" in two rooms in Royal Exchange Buildings, an enterprise which grew into the business which we know today. So Levin may never have known what became of Herr and Frau Josaphat, the young couple who arrived at his door one late-October night, off the Neptune from Hamburg and, some weeks later, left as suddenly as they had arrived, to seek their fortunes elsewhere - as Mr and Mrs Reuter.
PHOTO: The house in Kassel said to be the one in which Israel Josaphat was born on 21 July 1816. It was destroyed in the 20th century, either by allied bombing or during one of the anti-Jewish pogroms of the late 1930s. ■