People
News service backed by ex-Reuters journalists wins global prize
Tuesday 6 September 2016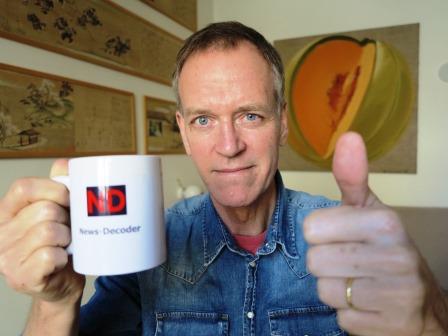 An educational news service supported by dozens of former Reuters correspondents and editors has won an award in a global competition honouring innovative efforts to build stronger news media and to engage young audiences.
One year after launch, News-Decoder, a not-for-profit based in Paris, won a second prize in the public service category of the World Association of Newspapers and News Publishers' (WAN-IFRA) annual World Young Reader contest.
"This is a great, global effort to create original content crafted by young adults and media correspondents around the world," WAN-IFRA said of News-Decoder in announcing the winners.
Founded in 1948, WAN-IFRA is the foremost global organisation of the world's press, with a network of 3,000 news publishing companies and technology entrepreneurs. Its mission is to defend and promote press freedom, foster innovation and support independent news publishing companies.
News-Decoder was founded last year by former Reuters correspondent and editor Nelson Graves (photo). Thirty-seven News-Decoder correspondents who used to work at Reuters are supporting the project by writing articles, submitting pictures, mentoring students and appearing in videos and webinars.
With their experiences living around the world and covering many of the biggest global news stories of the past few decades, the correspondents offer a unique perspective and can help News-Decoder's young audience better understand the world's most pressing issues.
Since its launch in mid-2015, News-Decoder has published 349 posts by 152 authors, including 94 millennials. It has held six webinars on topics ranging from Syria's civil war to the Panama Papers, involving ex-Reuters journalists Peter Bale, Adrian Edwards, Jonathan Lyons and Harvey Morris.
Currently there are 15 academic institutions around the world participating in News-Decoder's pilot programme. News-Decoder is partnering with Global Online Academy to offer a four-week course exploring major global issues and the US presidential election. Former Reuters correspondents Alex Nicoll and Alan Wheatley will be addressing sessions on defence, security and the international economy.
The overall winner in WAN-IFRA's competition was Malaysia's The Star newspaper for its R.AGE TV video reporting initiative. In the public service category, Schleswig-Holsteinischer Zeitung of Germany won first prize for helping 2,000 young refugees learn to speak German and understand German culture.
The WAN-IFRA jury ended its citation for News-Decoder saying: "We hope they can sustain themselves financially in the future."
News-Decoder raised $50,000 last year in a crowd-funding campaign and eventually plans to raise revenue through a combination of subscriptions paid by academic institutions and donations from foundations and private individuals.
VIDEO ■