People
IPI honours columnist David Rohde, a former Taliban captive
Thursday 5 July 2012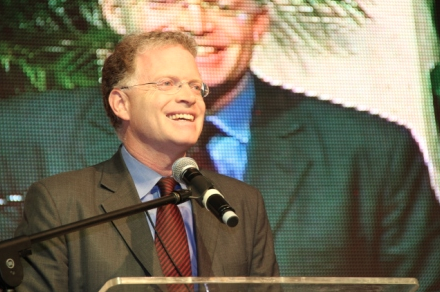 Reuters columnist David Rohde, who escaped seven months' captivity by the Taliban in Afghanistan three years ago, has received an award as an International Press Institute World Press Freedom Hero.
He was held by the Taliban along with his interpreter and driver from November 2008 until June 2009 when he escaped his captors. Rohde was working as a reporter for The New York Times at the time and was in Kabul doing research for a book about the history of US involvement in Afghanistan. His captors initially demanded a ransom of $25 million and the release of ten prisoners from the US prison camp at Guantanamo Bay. Western news organisations maintained a self-imposed blackout on reporting Rohde's capture in the belief it would improve his chances of survival.
Twice a Pulitzer Prize winner, Rohde became a Reuters columnist on foreign affairs last year. He received the IPI award for his bravery and commitment to press freedom at a ceremony at the Institute's world congress in Port of Spain, Trinidad, on Thursday. Rohde said he accepted it on behalf of all journalists everywhere who continue to report under difficult conditions. Local journalists, not those on foreign assignment, are often the ones who face the greatest dangers in doing their jobs, he said.
"Politicians, businessmen and criminals note your reporting…" he said. "Local journalism around the world is more important and powerful than it has ever been." He added that by their fearless and balanced reporting, local journalists make it harder for those engaged in crime and corruption to delude themselves about their corrupt practices or to rationalise them.
Rohde's forthcoming book, Beyond War: Technology, Economic Growth and American Influence in the New Middle East, is due to be published in March 2013.
PHOTO: David Rohde speaks at the IPI conference. ■