People
Annette von Broecker's Cold War spy swap scoop recalled
Friday 9 July 2010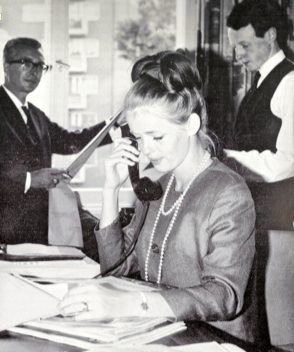 Annette von Broecker was, in her own words, a 19-year-old blonde when Reuters hired her as an editorial assistant in West Berlin in October 1959.
Von Broecker, editor, Germany when she retired in 1994, would probably never have become a journalist at all had it not been for a dramatic story that unfolded before her eyes at a moment when history was being made - "and, of course, because my mother desperately wanted to get me out of the house", she recounted later.
As 21st century espionage agents were exchanged today between East and West, security correspondent William Maclean reached back nearly 50 years to recall von Broecker's first big scoop.
"There was Cold War drama aplenty in a Berlin spy swap witnessed by Annette von Broecker of Reuters one chilly February morning in 1962, amid a wind that 'seemed to blow straight from the North Pole'," he wrote.
"It was a peaceful scene, static and unreal. The men, wrapped in winter coats, who stood on the bridge, were in two groups, divided by a white line that was brushed across the tarmac to declare that here was the Iron Curtain.
"As I arrived, the men were set in motion. One group walked Eastwards, the other West, vanishing behind closed curtains in limousines. They took off like rockets."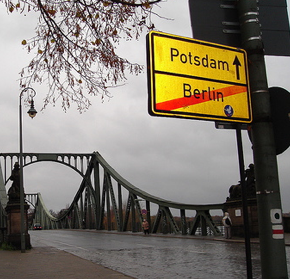 In the book Frontlines: snapshots of history, von Broecker credited her scoop to a lucky guess. After Berlin bureau chief Alfred Kluehs had sent two correspondents to Checkpoint Charlie to staff both sides of the border crossing between divided Berlin, she stared at a big map of the city that was hanging on the wall behind the boss's desk.
"He sat with his back to it. My eyes wandered about. I looked at all the coloured pins that Alfred had stuck on the map to mark important sites, such as border crossings.
"They stopped suddenly, in the southwest corner of Berlin. There was a border. There was a bridge. It spanned the River Havel and connected the American sector of Berlin with the East German town of Potsdam. That was where the Western allies used to have their military liaison missions, which were attached to the Soviet headquarters in East Germany. Only Allied military personnel were allowed to cross the Glienecke Bridge there, an elegant iron structure in two sets of concave bows across the Havel, some 150 yards wide.
"I said nothing for a while. But then I could not hold back. 'Herr Kluehs,' I coughed. 'What about Glienicker Brücke?'
"Alfred looked around, then a bolt of lightning seemed to hit him. 'Woman, if you have nothing else to do than make funny suggestions, why the hell don't you get there immediately?' He made a few frantic calls, got ambiguous replies and spurred me to find a taxi. How different if there had been mobile telephones in those days. Perhaps he might have reassigned someone from Checkpoint Charlie. Who knows?"
The drama of von Broecker's scoop was unlikely to be repeated in the latest swap by Moscow and Washington, said Maclean.
"Almost half a century later, and 20 years after the Cold War died, there will be no dawn walk across the Glienicke Bridge like the one that day by prisoners including KGB Colonel Rudolf Abel and U-2 spy plane pilot Gary Powers.
"Even if some Moscow-Washington tensions remain, simultaneous two-way crossings of the Iron Curtain are history."
In fact, today's exchange was conducted in another capital of Cold War intrigue - Vienna.
PHOTOS: Annette von Broecker at work in the Reuters Berlin office with bureau chief Alfred Kluehs (L) a few weeks after her 1962 scoop, and the Glienicke bridge across the Havel River connecting Berlin with Potsdam. Reporters used to call it the bridge of spies during the Cold War when the Soviet Union and the United States used it three times to exchange captured agents. The Rudolf Abel-Gary Powers exchange witnessed by Annette von Broecker was the first of those swaps. ■