People
A grim trudge
Thursday 25 January 2018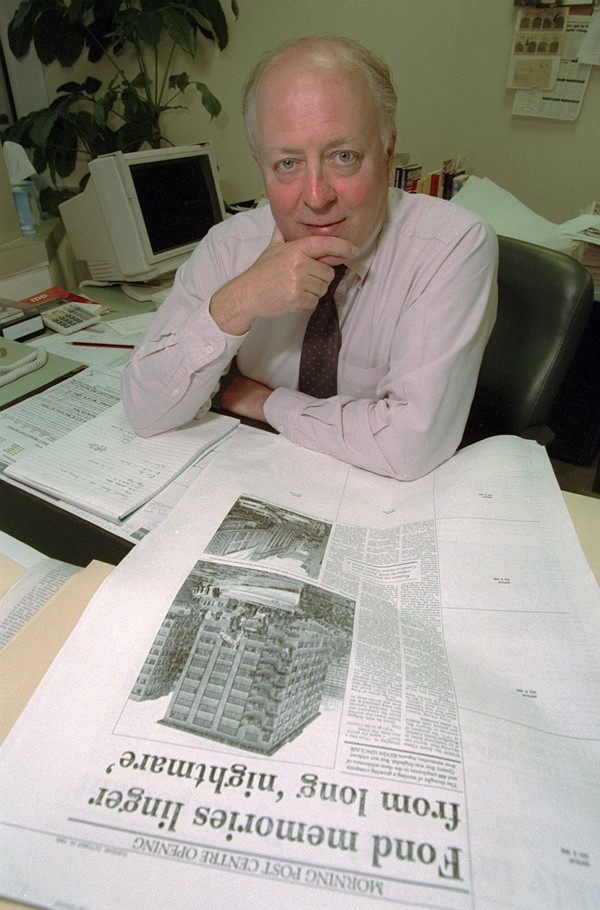 Cheating death in Vietnam, getting fired and becoming a prolific author of acclaimed books on China and France, Jonathan Fenby, former editor of Reuters, Britain's Observer, and Hong Kong's South China Morning Post, has been reflecting on a lifetime in journalism.
The provincial newspaper editor's son, now 75, also had a bit of a run-in with the last British colonial governor of Hong Kong, Chris Patten.
As chairman of Britain's Conservative Party, Patten had led it to election victory but lost his own seat as a member of parliament. In 1992, the consolation prize was Hong Kong where he and Fenby met.
"The first time I went to see him, I said to him, 'We're both FILTH!' I don't think he laughed," Fenby recounted in an interview.
FILTH, the acronym for Failed in London, Try Hong Kong, was applied to young expatriates who went there to hustle for work, often in finance, in the twilight of the territory's colonial status prior to its 1997 return to China.
Nearly three decades earlier, Fenby was covering the Vietnam war "as a boy correspon­dent" for Reuters. Two American helicopters wouldn't take him on a resupply mission; a third agreed. The first two didn't make it. He also survived severe hepatitis in Vietnam, and Reuters had to fly him back from Saigon, first class, on Air France. As he recalls, with amused regret: "Foie gras! Champagne! And I couldn't touch them."
Fenby had joined Reuters in 1963, becoming editor in 1973 until 1977. He was Paris bureau chief for five years.
In 1995 he lost his job as editor of The Observer. He was told that the Scott Trust, which ran the paper after its takeover by The Guardian, couldn't be seen to sack an editor so he was resigning. He was instructed to leave the building immediately.
As that door closed, so another opened almost immediately. Andrew Knight, his editor at The Economist when he had worked there in the 1980s, told him that the South China Morning Post was looking for a new editor.
Fenby arrived in Hong Kong with a plan to write a book analysing a place on the cusp of great change - France. He worked on it throughout much of his SCMP editorship. On the Brink: The Trouble With France was published in 1998.
In January 1999, Fenby was told that his contract in Hong Kong wasn't going to be renewed, and he left the newspaper in July (although he returned that autumn for a few editing stints).
Fenby returns to Hong Kong several times a year for his work with Trusted Sources, which he co-founded and which provides investment research on emerging markets.
On a recent visit, writer Fionnuala McHugh found Fenby "cheerful and chatty: an old-school British newspaperman, who resembles Mr Pickwick and is ever primed with an anecdote in which food and/or wine usually have their place."
Becoming a journalist "was the most unimaginative career path" for him. His father was a founding editor of the Oxford Mail, assistant editor of Picture Post and, ultimately, editorial director of a regional newspaper group, Westminster Press. His mother had been the writer Rebecca West's secretary before becoming editor of a nursing magazine.
Fenby has been honoured by the governments of Britain and France for his journalism and writing.
His progression through the media ranks seems to have become an increasingly grim trudge, McHugh wrote in the SCMP. "I was practically in a clinical depression at The Observer," he admits. The desire to get on a plane out of London was finally realised after a chilly January walk and a poor Chinese meal. He and his French wife Renée decided to go "where the rain is soft and the Chinese food good", which, ignoring subtropical downpours, is about right.
The entire episode is a textbook example of "Failed in London, Try Hong Kong", McHugh commented.
---
PHOTO: Jonathan Fenby in his office at the South China Morning Post in October 1995, soon after his arrival to take up the newspaper's editorship. Picture: SCMP ■