News
Thomson Reuters Q4 profit tops estimates
Thursday 9 February 2023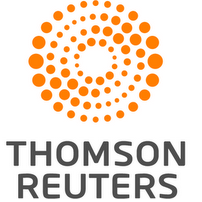 Thomson Reuters reported higher-than-expected earnings in the fourth quarter, helped by cost cuts and gains on divestitures, but said a weakening global economic environment was a concern.
Adjusted earnings were 73 cents per share, beating analyst forecasts of 65 cents.
Thomson Reuters said many signs pointed to a weakening global economic environment amid rising interest rates, high inflation, and geopolitical risks.
It expects first-quarter organic sales growth at the lower end of its full-year target of 5.5-6%. That range matches the forecast made in November.
"As our results and guidance shows, we're proving to be every bit as resilient as we indicated and have traditionally been," CEO Steve Hasker said in a Reuters interview.
Total revenues rose 3% in the fourth quarter to $1.765 billion, slightly ahead of expectations of $1.760 billion. Exchange rate moves reduced the sales growth by two percentage points, and divestitures by one point.
Four of the company's five business segments showed higher sales and operating profit, including Reuters News whose total sales were 7% higher, primarily driven by the Reuters Events business and the company's multi-year news agreement with Refinitiv, the data and analytics business of London Stock Exchange Group. Thomson Reuters owns about $5.6 billion worth of LSEG shares.
Thomson Reuters completed a two-year cost-cutting programme. After it completes a $2 billion share repurchase scheme in the second quarter, it plans to return $2 billion in capital to shareholders and possibly conduct a share stock split. It raised its dividend for the 30th year in a row.
Hasker said the company had about $11 billion in capacity for deals and expected to pursue a couple this year, including adding more to its artificial intelligence capabilities.
"We've made significant investments over the last couple of years in AI. It powers many of our products," he said. ■
SOURCE

Reuters