News
Obituary: Pawel Sobczak
Wednesday 18 January 2023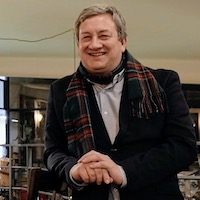 Pawel Sobczak (photo) was the heart of Reuters Warsaw bureau's day to day politics coverage for a decade and a half as Poland emerged into the European mainstream beginning the early 2000s.
Pawel died suddenly on Monday aged 53, leaving his son Kuba and a group of devastated friends and colleagues who knew him as a thoughtful, cultured and empathic man - perhaps more suited to a bygone era, but for years one of the Baron's most consistent breakers of political and economic news, Patrick Graham writes.
Pawel was an unstoppable force, patrolling the corridors of Poland's parliament beginning in the late 1990s and dropping in and out of ministers' and presidents' offices. He scored hard scoops, with real meaning, that often took the competition weeks to match. It is no exaggeration to say that he changed how many financial officials in the EU's biggest new member talk to the press, and in doing so was representative of a cadre of outstanding local language journalists across the region who made Reuters reputation in the post-communist landscape and helped create invaluable political transparency.
Journalists from Tokyo to Texas heard tales of the legendary Sobi, as we called him, who outstripped his rivals, both internationally and in a fiercely competitive local press. In one huge coup, he delivered the confirmation that Jarosław Kaczynski would give up the prime minister's role in favour of a colleague after winning the 2005 election. No one else had the news; it was confirmed two hours later at a news conference by Kaczynski - who discovered afterwards and was livid.
Not that he or his colleagues ever held it against Pawel. Quite the opposite: always the perfect gentleman and able to reach across Warsaw's acrimonious political divides, he broke news consistently under successive administrations of all colours. He was systematic and relentless, spending days on the phone or touring various contacts' offices to secure a budget draft or memo.
"I do apologise for bothering you" was his trademark opening line, which would emanate softly from his corner of the newsroom - on the rare occasions he wasn't out in the field. The gentlest of souls, Sobi had a competitive streak but often took colleagues along for the ride, maybe to meet a former prime minister for coffee in a downbeat office canteen, or to team up on the central bank or finance ministry interviews that he scored month after month for years.
He survived successive Reuters culls of eastern Europe's local language services over the past decade - a testament to how vital his reporting was to the bureau - before leaving in 2018. A Polish friend, now deputy editor in chief at one of Poland's national dailies, had arranged to meet him last Sunday, but the weather turned sour. "Poor outlook, have a good Sunday," Pawel wrote to him. "Maybe we'll manage next week."
He leaves behind a large group of friends, who gathered quickly on Whatsapp to write this and other tributes. We are all in shock and just a bit lost: one of the best of us, who stood by our side in all our battles, is gone far too early. ■